Report and results from our Japanese friends at the Nekoma Snowpark, Fukushima, Japan.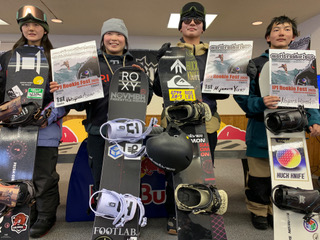 Black Yeti travelled in Japan for the new brand name IPJ Rookie Fest 2023 supported by euclidagency. 2020 edition was cancelled because of COVID-19 situation, 2021 lack of snow forced to cancelled the event again. 2022 season was tragedy of earthquake happened just two days before contest.
Black Yeti keep silent 3 winters but at the beginning of March he got time to wake up!

Blue Bird sunny weather and biggest thank from euclidagency main sponsor offer to all Grom and Rookie Winner FREE airplane ticket to Austria! More nicely surprise having riders from Europe, Zvadova Sara, Zvadova Victorie and Lebedeu Maxim (CZE) and our neighborhood from South Korea Kang Donghun!
Nekoma Snowpark build uniquely perfect set up by "Pyramid SnowPark Design" Crew. You guys are ROCK! 13m Kicker to 12m Kicker, two way feature up box or canon rail. Two way Feature Flat Down Box or Rainbow Rail, last feature KOJIKA-chan Section angled down rail to straight Rail.

Warmup session was over and just ready to start Girls 2 runs best count, 6 Girls 2 runs Finals Best count. Boys Qualification 2 runs Best Count, Finalist 12 boys 2 runs, Best Count. 

Grom Girl Winner: Niina SAKAKIBARA (2009)
B5 → SB5 → BS-F2 → 55-Front 180 Out → C180-55 

Grom Boy Winner: Hiroaki NAGARA (2009)
B9 → C10Melon Grab → Switch Board Slide 450 Out → F270 In Board Slide Front 270 Out → Cab 270 In Board Slide to Forward 

Winner of Rookie Girl: Ayano NAKAGAWA(2005)
C5 Indy → F7 → Board Slide Front 270 Out → Board Slide Pretzel 270 Out → Cab 180 55 Front 180 Out. What a combo!

Winner of Rookie Boy: Yuto MIYAMURA also winner of last season Pre-Quali event from Japan to Kaprun. But he has other event traveling conflict so give his ticket to 2nd of Rookie Boy. What a large heart =)

Fuki Oki (age 16).
F10 → B10 Indy  → Board Slide 450 Out Cab 270 In Board Slide 270 Out → Board Slide Transfer Board Slide 270 Out. Impress Run !!

! ! Congrats !!
 
At last biggest thank for the incredible event's support: SDG's KIDS.Burton, Kara Kamp, POW, CHILL, GIBBON, Hydro Flask, Murasaki Sports, VANTECH, Hapinos, Minna-No-Denki,Living Anywhere Commons, Michino-Eki-Bandai, Kita-No-Sato, Michino_eki-Urabandai, Aizu, Inawashiro,Bandaisan Geo Park, Fukushima-Mimpo News Paper,KitaShiobara Village, Bandai Town, Rumpl, TSG, Blue Tomato and Redbull =) Last Thank for more than 10 years support IPJ Nekoma Hoshino Resort.