Due to the recent Covid-19 autumn emergency and both national than international level, the WRT organizing committee decided to postpone the upcoming national qualifying event in Modena  scheduled in Sunday, November the 1st, and as well the 2020 World Final in Innsbruck, Austria. Both events will be re-scheduled during the first 2021 quarter in date to be defined.
"We don't feel safe and fair to run Rookie fest events in these difficult moments. In order to protect our rookie community and their families we decided to postpone the last qualification WRT Skate in Modena and as well the Word Finals in Innsbruck to future dates to be announced. In the meanwhile stay safe and take care, there will be again time to spend time together and have fun with the Black Yeti." stated Meinhard Trojer, WRT co-founder and tour manager regarding this difficult decision. 
WRT events are not only competitions, but events with several social activities and workshops in order to offer a unique experience to riders, parents and coaches. With the actual situation will not be possible to respect this format and the decision to postpone to safer moments is a direct consequence.
2020 World Rookie Tour Skateboard Calendar
Bring da Truckaz Rookie Fest – Chemnitz, Germany, 5-6 September 2020 – DONE
Skills Park Rookie Fest – Winterthur, Switzerland, 19 September 2020 – DONE
Prague Rookie Fest – Mystic Skate Park – Prague, Czech Republic, 4 October 2020 – DONE
Modena Rookie Fest – Modena, Italy, 30 October – 1 November 2020 – POSTPONED
World Rookie Skateboard Finals – Skatehall – Innsbruck, Austria, 13-15 November 2020  – POSTPONED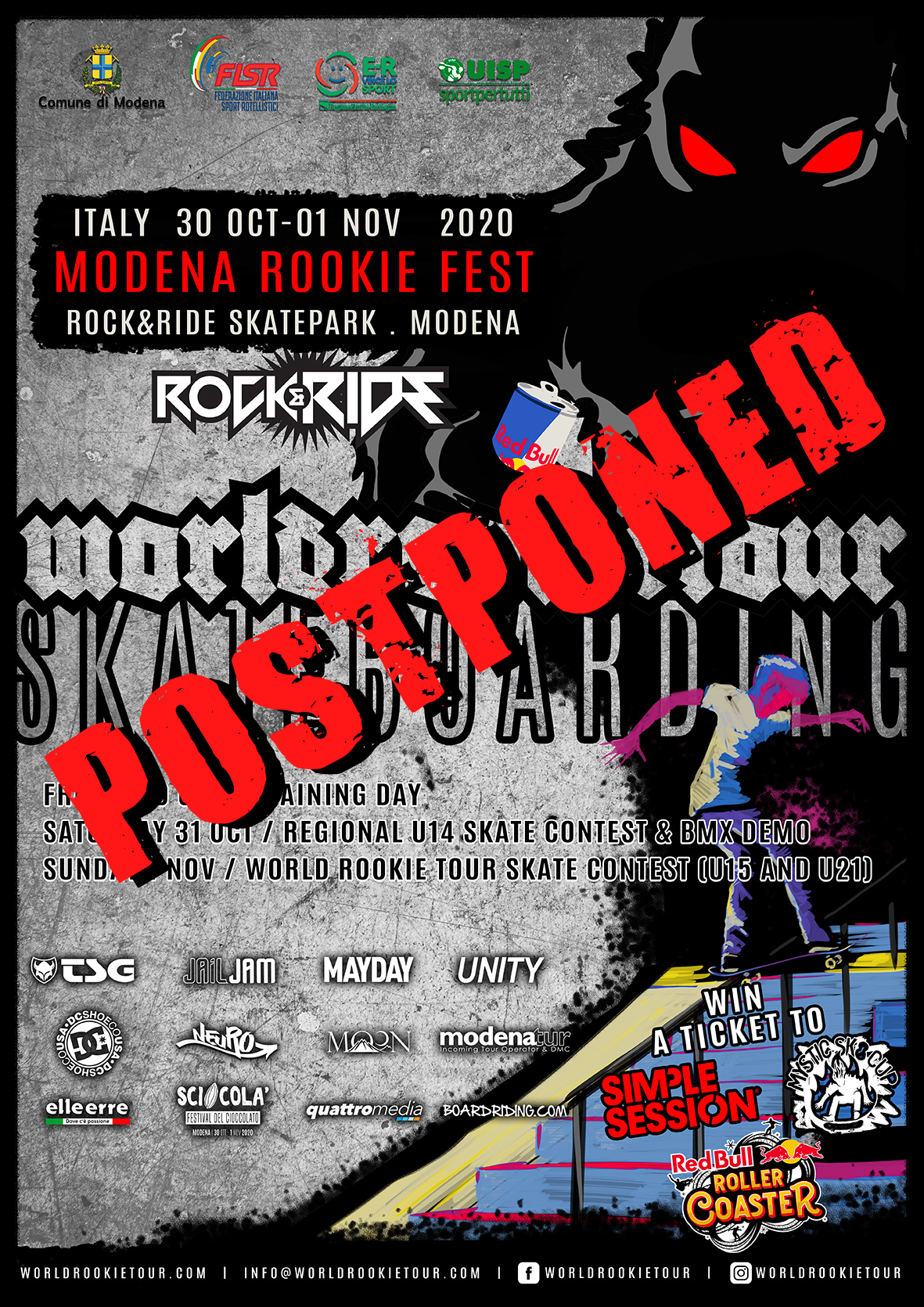 Follow the World Rookie Tour
Web: www.worldrookietour.com
Facebook: www.facebook.com/worldrookietour
Instagram: www.instagram.com/worldrookietour  @worldrookietour #worldrookietour
Vimeo: www.vimeo.com/channels/worldrookietour
email: info@worldrookietour.com
The World Rookie Tour is organized by the Black Yeti ssrl in collaboration with World Cup of Skateboarding and selected independent organizers.
If you dream to become a professional action sport athlete,
then your future starts from the World Rookie Tour!