10-13.02.2022 Mátraszentistván-Hungary, snowboard GS / SS
The Black Yeti will come to Skipark Mátraszentistván to the most traditional area of Hungary, between 10-13.02.2022!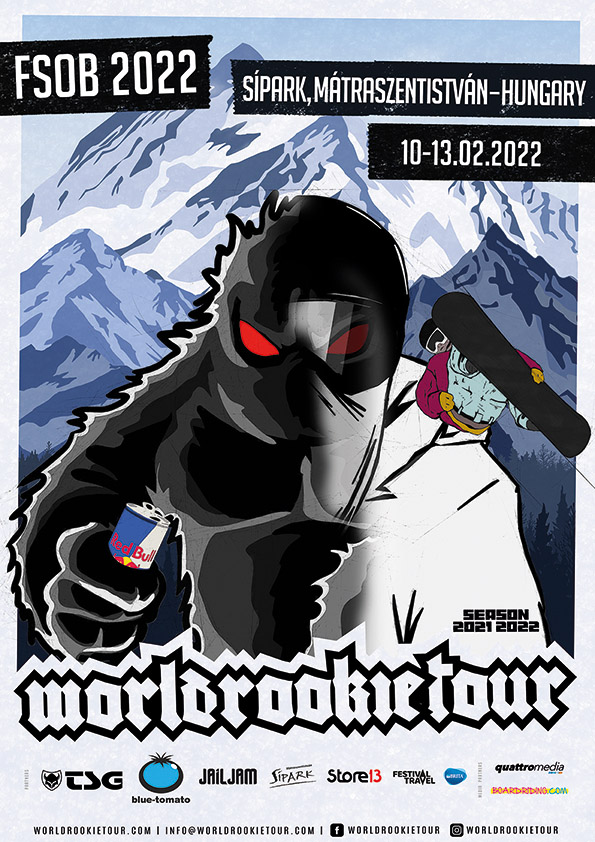 The contest will take place in Skipark Mátraszentistván.
Slope number 5 is partialy reserved for the competitions! The park for this amazing event will be here! – https://www.sipark.hu/sipalyak-siliftek#skimaps-1
Nearby international airport: Budapest (113 km)
By car Wien – 374 km, Budapest – 113 km, Kiev 1000 km, Sofia – 861 km
Package for riders and teams: no package booked for riders this year, please contact us directly
What are you waiting for?
Come and join the 2022 World Rookie Tour: the future is here! 
Info and registrations
Contact:
Balazs Bécsy, mobile: +36 30 600. 6024, e-mail: becsy@msbsz.hu,
Réka Becze, mobile: +36 30 974 8585, e-mail: becze@msbsz.hu
registration@worldrookietour.com
Age Groups   
2021/2022 World Rookie Tour events are reserved to Rookies (born from 1st of January 2004 to 31st of December 2006) and Groms (born from 1st of January 2007 and up), both male and female. All contests in the World Rookie Tour will generate valuable results for the World Rookie Rank and all the riders on the podium will be qualified for the end of season World Rookie Finals.

The World Rookie Tour is organized by Black Yeti company in collaboration with National and International Sports Associations and it is made possible by Red Bull, Burton, Nitro, Völkl, Marker, Union Bindings, TSG Protection, Level Gloves, Surftolive.com, Jail Jam, Elle-Erre Easy Flag, and Store13, Brita, Festival Travel. You can follow the World Rookie Tour on our international media partners Boardriding.com, Prime Snowboarding, Prime Skiing, Sourge Skateboarding, Sequence Magazine and Quattro Media.
2021-22 World Rookie Tour Calendar
Check the last updated version of the WRT calendar here: Calendar – World Rookie Tour