Black Yeti welcomed almost 75 of the best young riders from 11 different Nations around the world, arrived to compete on the slopestyle of the Pila ski resort. Despite challenging conditions caused by snowfall and low visibility, the riders exhibited a very high level of riding and great tricks.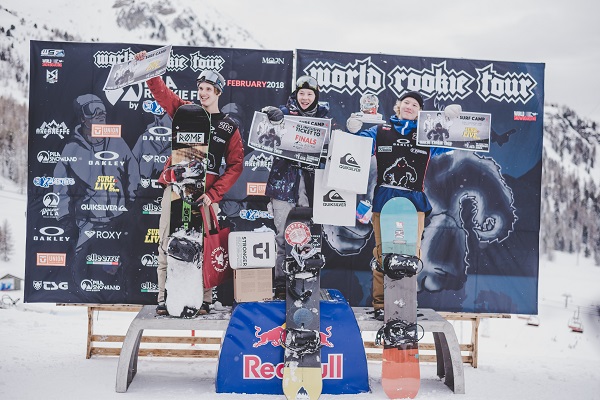 At the AreaEffe Snowpark perfectly shaped, rookies could express themselves in tricks which brought to the podium 3 winners for each category. In Rookie boys podium, finnish rider, dominated the competition and won all three steps of the podium: Valtteri Kautonen (FIN) brought home gold medal, Joonas Bergman (FIN) and Sami Kallo (FIN) return to their homeland with silver and bronze respectively. Valtteri gave the best of himself in his 3nd run where he has stomped cab270 in, switch 50/50 to switch backside360 out on the rail set, cab 720, switch backside 900 and backside 540 on the kickers.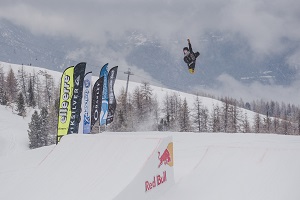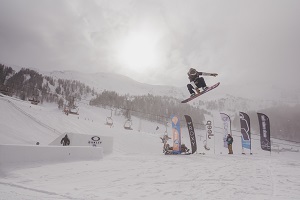 Merit also goes to italian Emma Gennero (ITA) that have claimed victory in the Rookie girls category thanks to her 3nd run: cab180 in, 50/50, 50/50 on the rail set, indy, backside360, frontside360 on the kickers. Second and third place for Sirja Niemi (FIN) and Lucie Silvestre (FRA).
England occupies the first places on the podium in the Grom category with Gabriel Adams (GBR) for the boys and Amber Fennel (GBR) for the girls.
In this first edition of the Pila Rookie Fest, prizes were awarded to even the smallest riders that they're sending it too despite their age: Romani Allemand (FRA), Charlie Lane (GBR) and Jan Golinczak (POL) are the winners and they have respectively twelve, eleven and ten years.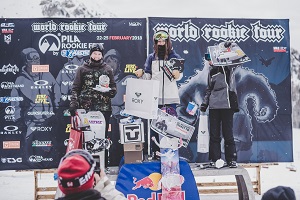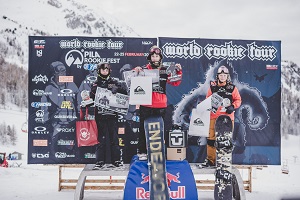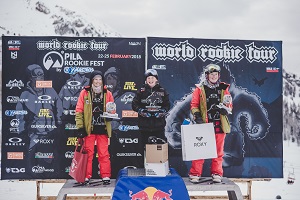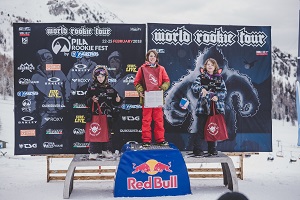 All the podium of rookies and groms riders are qualified for the 2018 World Rookie Finals scheduled in Kitzsteinhorn, Zell am See-Kaprun, Austria, from 10th to 15th April 2018.
World Rookie Tour writes once again an extraordinary page of international freestyle snowboard, with a serene atmosphere of international friendship.
Download full results here: http://bit.ly/PilaRookieFestbyDEEJAYXmastersFinalResult
2018 Pila Rookie Fest by DEEJAY Xmasters from MOON on Vimeo.
Follow the World Rookie Tour Facebook Fanpage to see all the pictures by Ania Grzelka.
DAY 1 – Arrival Day – Training Day – Event Presentation – Coach Meeting – Welcome Party Pila
DAY 2 – Qualification Day @ AREAEFFE snowpark Pila 
DAY 3 – Final Day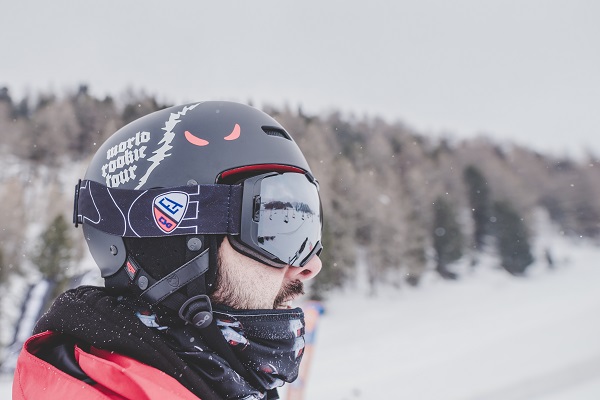 2018 Pila Rookie Fest by DEEJAY Xmasters – PRIZE:
Grom girls:
1° PLACE: UNION binding / OAKLEY goggle / TSG helmet
2° PLACE: TSG socks / ROXY  T- shirt /  TSG protection kit
3° PLACE: TSG socks / TSG  T- shirt
Rookie girls:
1° PLACE: ALL INCLUSIVE TICKET for CORVATCH ROOKIE FEST 2018 + SURF TO LIVE SURF CAMP + UNION binding / OAKLEY goggle / TSG helmet / ROXY Backpack
2° PLACE: SURF TO LIVE SURF CAMP+ TSG socks / ROXY  T- shirt /  TSG goggle
3° PLACE: SURF TO LIVE SURF CAMP + TSG socks / TSG  T- shirt
Grom boys:
1° PLACE: TICKET TO WRT SHOOTING + UNION binding / OAKLEY goggle / TSG helmet / QUIKSILVER Cap
2° PLACE: ALL INCLUSIVE TO WORLD ROOKIE RAIL JAM MODENA  + TSG socks / QUIKSILVER  T- shirt /  TSG protection kit
3° PLACE: ALL INCLUSIVE TO WORLD ROOKIE RAIL JAM MODENA + TSG socks / TSG  T- shirt / QUIKSILVER  T- shirt
Rookie boys:
1° PLACE: ALL INCLUSIVE TICKET for WORLD ROOKIE FINALS KAPRUN + SURF TO LIVE SURF CAMP + UNION binding / OAKLEY goggle / TSG helmet / QUIKSILVER Cap
2° PLACE: SURF TO LIVE SURF CAMP + TSG socks / TSG  T- shirt / QUIKSILVER  T- shirt / TSG Backprotector
3° PLACE: SURF TO LIVE SURF CAMP + TSG socks / QUIKSILVER  T- shirt / TSG protection
Kids boys:
1° PLACE: TSG helmet / DOLLY NOIR T- shirt
2° PLACE: TSG Protection KIT / TSG Goggle
3° PLACE: TSG Protection KIT

2017.18 World Rookie Tour – Official Calendar
NZ Rookie Fest. Cardrona, New Zealand. October 05-08, 2017. Halfpipe and Slopestyle DONE
World Rookie Rail Jam. Modena, Italy. October 26-28, 2017. Urban Rail Jam DONE
Corvatsch Rookie Fest. Corvatsch, Swiss. December 13-17, 2017. Slopestyle DONE
DEEJAY Xmasters World Rookie Fest. Livigno, Italy. January 20-25, 2018. Slopestyle DONE
Bulgarian Rookie Fest. Pamporovo-Mechi Cal, Bulgaria. January 26-28, 2018. Halfpipe and
Slopestyle CANCELLED
USASA Grom Fest. Keystone, USA. February 10, 2018. Slopestyle DONE
Pila Rookie Fest by DEEJAY Xmasters. Valle d'Aosta, Italy. February 22-25, 2018. Slopestyle DONE
USASA Grom Fest. Breckenridge, USA. February 25, 2018. Halfpipe
Indy Park Rookie Fest. Nekoma, Japan. March 03-04, 2018. Slopestyle
Oslo Rookie Fest. Oslo, Norway. (to be confirmed)
Mammoth Rev Tour Rookie Fest. Mammoth Mountain, California. March 15-16, 2018. Halfpipe and Slopestyle
World Rookie Finals. Kitzsteinhorn, Zell am See-Kaprun, Austria. April 10-15, 2018. Halfpipe and Slopestyle
Follow the World Rookie Tour online:
web: www.worldrookietour.com
Facebook fan page: www.facebook.com/worldrookietour 
Vimeo channel: www.vimeo.com/channels/worldrookietour
mail: info@blackyeti.info