From March 20th to 22th the Black Yeti will hit Kronplatz for the 2° time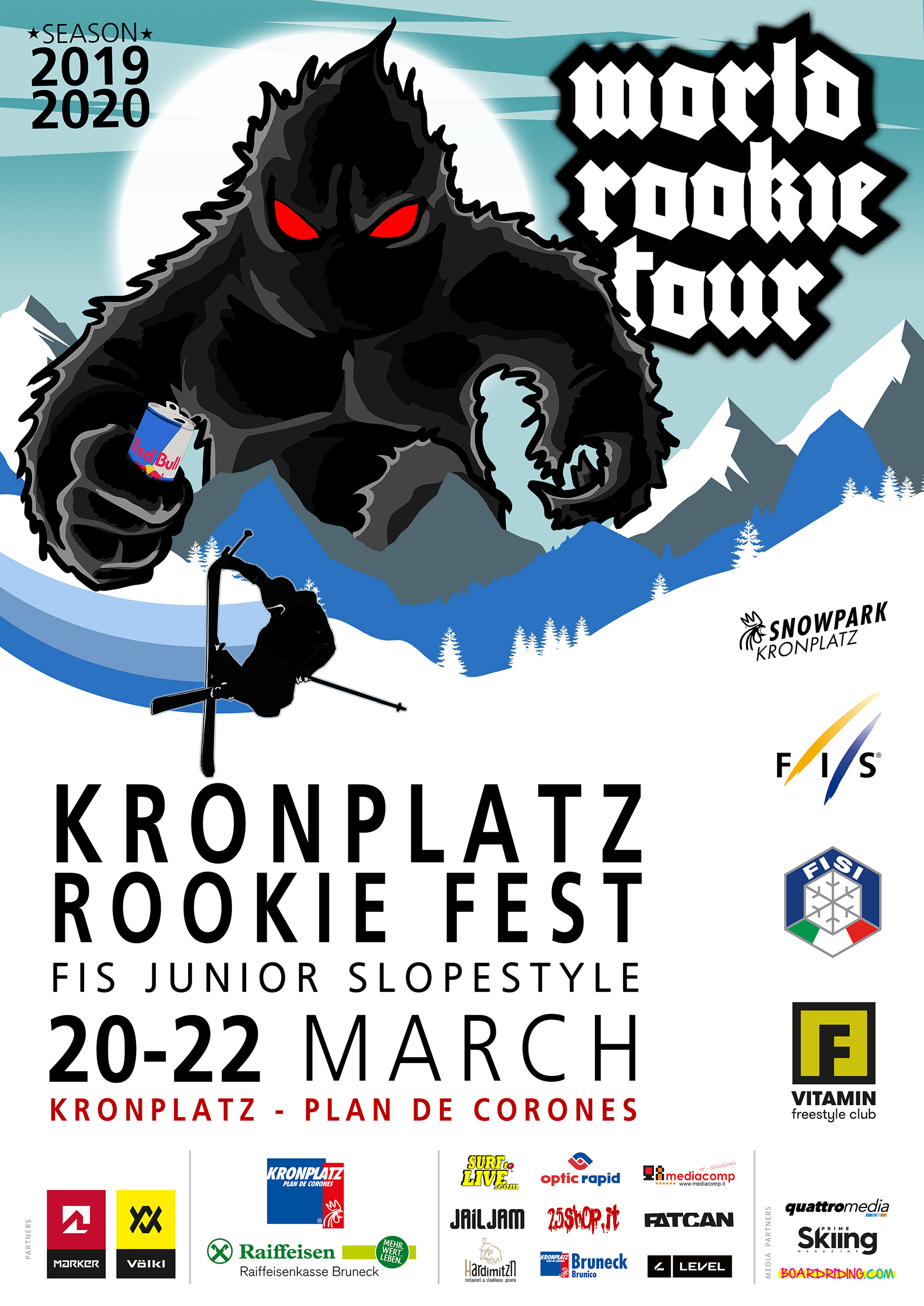 The second edition of the Kronplatz Rookie Fest
The best of the Kronplatz Rookie Fest is yet to come with its second edition in less than 2 months. Kronplatz Snowpark is a premium freestyle terrain managed by the local club "Vitamin F" and it will host the second of the 3 stop of the Dolomites Freeski Rookie Experience, the Italian leg of the WRT Freeskiing which includes 3 slopestyle events in a raw throughout the Dolomites.

Watch the course preview from the Kronplatz Snowpark

Registrations are now open for Kronplatz
Choose your best deal to join the Kronplatz Rookie Fest. There are 3 types of packages:
– Option 1: entry fee, 3-day lift tickets and welcome party/side events at 115€ for riders and 75€ for coach.
– Option 2: entry fee, 2-day lift tickets and welcome party/side events at 100€ for riders and 50€ for coach
– Option 3: entry fee and welcome party/side events at 70€ for riders and 20€ for coach. 
 The extra cost of a lift ticket is 15€ per day. 
To book your best fare accommodation please contact:
Bruneck Kronplatz Tourismus, Tel. +39 0474 555 722  info@bruneck.com www.bruneck.com 
Download the info sheet and the accreditation form here
Tons of huge prizes for Kronplatz
All the podium winners from Kronplatz Rookie Fest slopestyle, male and female, grom and rookie, will be qualified for the 2020 World Rookie Freeski Finals. Furthermore, the best riders of the event will be crowned and celebrated with prestigious awards: 2 all-inclusive tickets for the 2020 World Rookie Finals in Seiser Alm – Italy, 3 surf camps in Santander by Surftolive.com and other prizes offered by other WRT sponsors: Volkl, Marker, Level, TSG and Jail Jam.
What are you waiting for?
Come and join the 2020 World Rookie Tour: the future is here!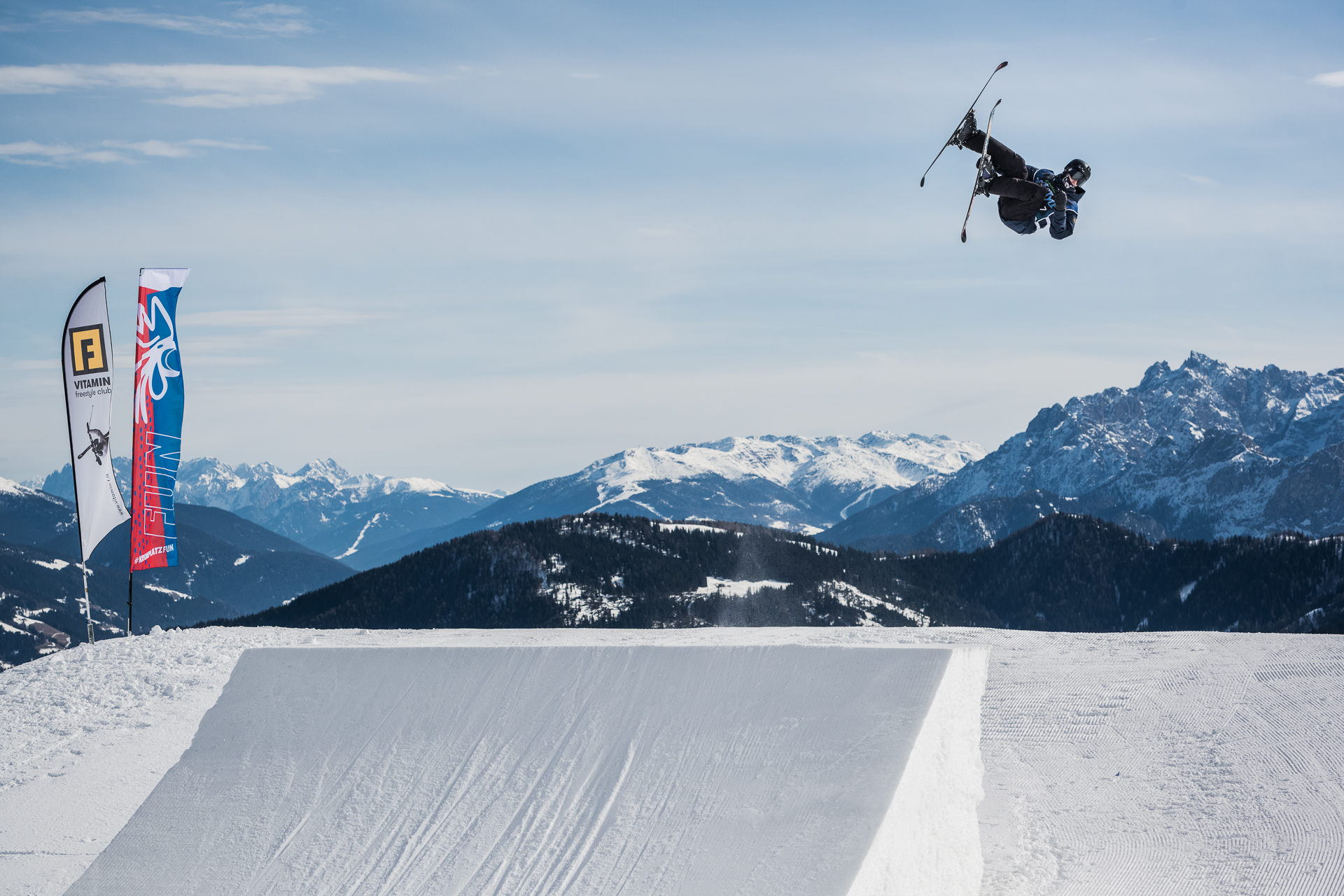 For info about Kronplatz Rookie Fest in Bruneck:
Vitamin F – info@vitamin-f.it
Info and registrations for the 2020 Kronplatz Rookie Fest, Italy:
Contacts: registration@worldrookietour.com  phone: 0039.059.9783397 or 0039.340.3285569
Age Groups
2019/2020 World Rookie Tour events are reserved for Rookies (born from 1st of January 2002 to 31st of December 2004) and Groms (born from 1st of January 2005 and up), both male and female. All contests in the World Rookie Tour will generate valuable results for the World Rookie Rank.
The World Rookie Tour is organized by Black Yeti company in collaboration with National and International Sports Associations and it is made possible by Red Bull, Völkl, Marker, Union Bindings, TSG Protection, Level Gloves, Surftolive.com, Jail Jam, Elle-Erre Easy Flag, Rock&Ride, Jart Skateboard, and Moon. You can follow the World Rookie Tour on our international media partners Sequence Magazine, Boardriding.com, Prime Snowboarding, Prime Skiing, Sourge Skateboarding, and Quattro Media.
Photo credit: Vitamin-F
2019.20 World Rookie Tour Freesking – Calendar
Summer Rookie Jam // Les 2 Alpes . FRA // 13-20.07.2019 // SS/BA/HP – DONE
NZ Rookie Fest // Cadrona . NZL // 14-17.08.2019 //  SS/HP – DONE
NZ Show Down Rookie Fest // Cadrona. NZL // 04-06.10.2019 // SS/BA/HP – DONE
Colorado Rookie Fest // Vail . USA // 26.01.2020 // HP – DONE
REV TOUR Rookie Fest // Mammoth Mountain. USA // 05-06.02.2020 // SS/HP
Colorado Rookie Fest // Keystone A51 . USA // 09.02.2020 // SS
Balkan Rookie Fest // Sofia . BUL // 13-16.02.2020 // SS CANCELLED
Innsbruck Rookie Fest // Innsbruck, Skyline Park. AUT // 14-16.02.2020 //SS
Ursus Rookie Fest // Madonna di Campiglio. ITA // 15-19.03.2020 // SS
Kronplatz Rookie Fest // Kronplatz. ITA // 20-22.03.2020 // SS
World Rookie Finals // Seiser Alm. ITA // 23-27.3.2020 // SS
2019.20 World Rookie Tour Snowboard – Calendar
Summer Rookie Jam // Les 2 Alpes . FRA // 13-20.07.2019 // SS/BA/HP – DONE
NZ Rookie Fest // Cadrona . NZL // 14-17.08.2019 //  SS/HP – DONE
NZ Show Down Rookie Fest // Cadrona. NZL // 04-06.10.2019 // SS/BA/HP – DONE
World Rookie Fest // Livigno . ITA // 11-15.01.2020 // SS – DONE
Colorado Rookie Fest // Vail . USA // 26.01.2020 // HP – DONE
QKLS Rookie Fest // Ruka . FIN // 29.01-02.02.2020 // SS DONE
REV Tour Rookie Fest // Mammoth Mountain. USA // 07-09.02.2020 // SS/HP
Colorado Rookie Fest // Keystone A51 . USA // 08.02.2020 // SS
Balkan Rookie Fest // Sofia . BUL // 13-16.02.2020 // SS CANCELLED
Young Guns Rookie Fest // Takasu. JPN // 16.02.2020 // HP
Indy Park Jam Rookie Fest // Nekoma. JPN // 14.03.2020 // SS
Ursus Rookie Fest // Madonna di Campiglio. ITA // 15-19.03.2020 // SS
World Rookie Finals // Kitzsteinhorn, Zell Am See-Kaprun . AUT // 31.03-05.04.2020 // SS/HP
Follow the World Rookie Tour online:
Web: www.worldrookietour.com
Instagram: www.instagram.com/worldrookietour
Facebook fan page: www.facebook.com/worldrookietour
Vimeo channel: www.vimeo.com/channels/worldrookietour
Mail: info@worldrookietour.com