Registrations are open for the second edition – Trentino Alto Adige is a Safe Zone from Corona Virus
DOWNLOAD HERE INFO SHEET AND REGISTRATION FORM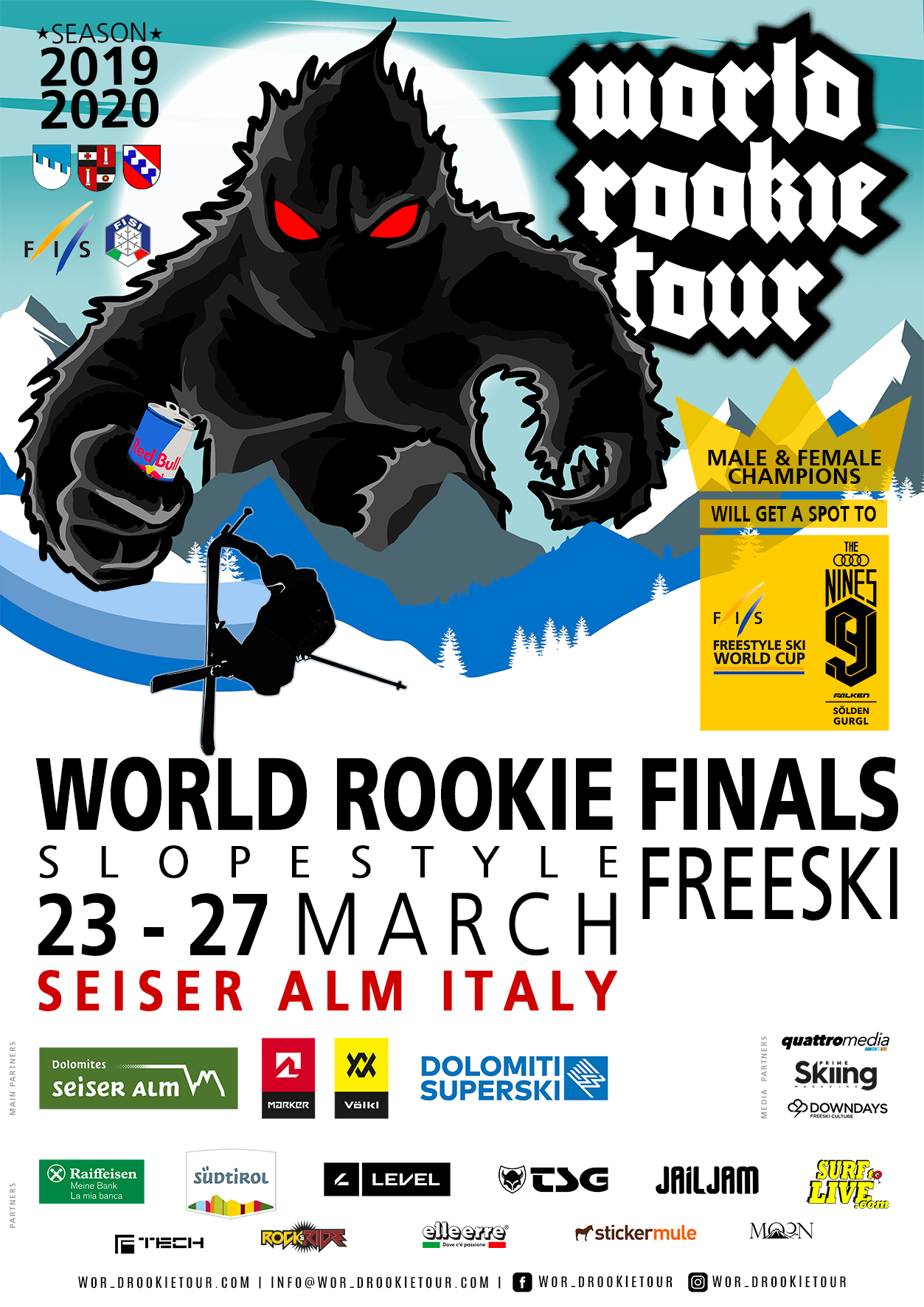 The 2020 World Rookie Tour Freesking is almost at the end and the Black Yeti is ready for the big finals that will be held for the second time in Seiser Alm, Italy. We expect many athletes from all around the world, ready to fight for victory in the perfectly shaped Seiser Alm Snowpark.
Corona Virus updates for Trentino Alto Adige area in Italy
Trentino and Alto Adige South Tyrol in Italy, where all the upcoming Italian World Rookie Tour events are scheduled in March, are not considered risk areas. FIS, FISI (Italian federation for FIS), and the Italian Government, confirmed that all the winter sports event scheduled in March and after are allowed to take place so all the next WRT event in Italy are confirmed as well: Ursus Rookie Fest in Madonna di Campiglio (15.19 march), Kronplatz Rookie Fest in Kronplatz (20.22 march) and World Rookie Freeski Finals in Seiser Alm (23.27 march) are all confirmed as scheduled.  For detailed and updated information in several languages about Corona Virus in Trentino Alto Adige Sud Tirol check the link www.suedtirol.info/en/information/coronavirus.
Seiser Alm, Italy, is ready to host the 2020 World Rookie Freeski Finals
At 1.5 km long and offering around 70 obstacles, the Seiser Alm Snowpark is one of the longest terrain parks in Europe. With rails, kickers, and boxes the snow park offers everything that a freestyler could ever wish for, from easy through medium right up to pro level. The huge competition set up, more or less the same as the last FIS World Cup and built by prestigious F-Tech crew, will thrill the riders and inspire them to put down their most creative tricks.
Who will meet in Seiser Alm?
Competitors from all over will fly in Seiser Alm for this awaited second edition of the WRT Freeski Finals and of course the 2019 World Rookie Champion Ulrik Samnoy from Norway will be back to defend his title. Watch here a video statement from Ulrik about his participation for the 2020 World Rookie Freeski Finals: vimeo.com/387948241
Moreover Silvia Bertagna, Olympic athlete and Seiser Alm local hero, will be the Godmother of the event, will shred and will share her professional rider experience with all the participants.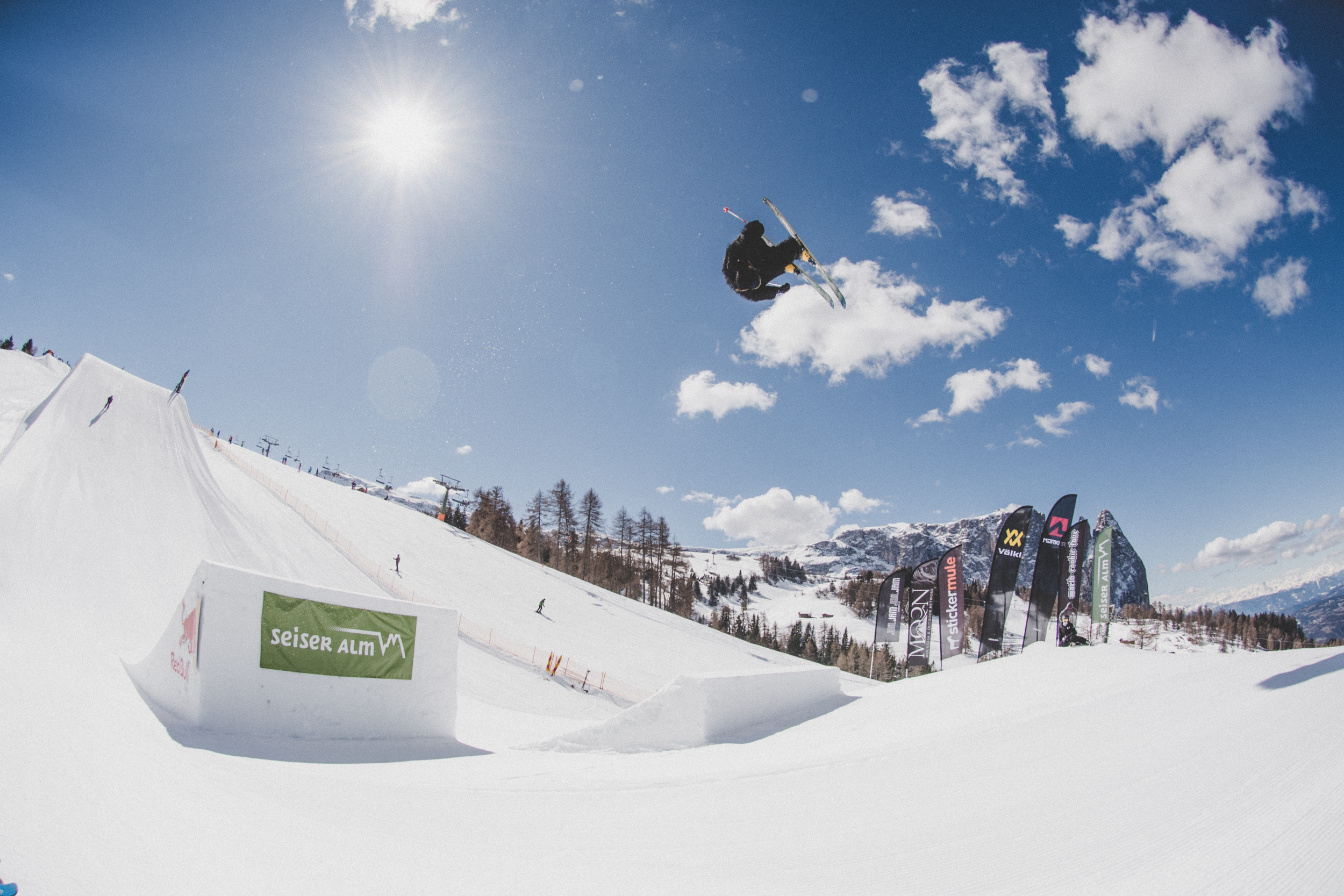 Accommodation and extra activities
Crew, riders, coaches, and families are invited to join the event crew in the astonishing SPA Resort Mirabell Hotel 4* with exclusive All-inclusive packages which include:
– 4 nights at Mirabell Hotel 4* in half board all reserved for World Rookie Tour athletes, coaches and parents: check in 23/03, check out 27/03 in double or multiple room
– 3 days lift tickets from 24th to 26th of March;
– Lunch on the slopes at the snowpark chill zone on 25th and 26th of March;
– Race inscription (only for athletes);
– Welcome pack, event pass to all areas and participation to all lifestyle activities.
Extra costs:
extra hotel nights: 75€/night
extra lift tickets: 25€/day (special prize for athletes and coach)
single rooms: additional 25€/night
NOTE: the rooms at this rate in Mirabell Hotel are available in a limited number and we can't ensure the same condition in other hotels.
Aside from the contest, the Black Yeti will make sure that riders will never get bored in Seiser Alm! Every afternoon the WRT crew will organize a special program to get the real Spirit of South Tyrol.

Info and registrations for the 2020 2020 World Rookie Freeski Finals in Seiser Alm, Italy:
Contacts: registration@worldrookietour.com  phone: 0039.059.9783397 or 0039.340.3285569
Tons of huge prizes
The 2020 World Rookie Tour Freeski Champions, male and female, will be invited to join the legendary Audi Nines big air contest on April the 17th and 18th, and will be qualified for the 2020 FIS World Cup Tour in slopestyle and big air Völkl Sponsorship will be awarded to the best non-sponsored competitor, Surf trip to Santander by SurftoLive.com, invitations to the 2020 World Rookie Tour Shooting (date and location tbd) and one invitation to the Rookie Trip in the South Hemisphere.
Prizes in products by Level Gloves, TSG, Jail Jam, Volkl.
What are you waiting for?
Come and join the 2020 World Rookie Tour: the future is here!

Age Groups
2019/2020 World Rookie Tour events are reserved for Rookies (born from 1st of January 2002 to 31st of December 2004) and Groms (born from 1st of January 2005 and up), both male and female. All contests in the World Rookie Tour will generate valuable results for the World Rookie Rank.The World Rookie Tour is organized by Black Yeti company in collaboration with National and International Sports Associations and it is made possible by Red Bull, Völkl, Marker, Union Bindings, TSG Protection, Level Gloves, Surftolive.com, Jail Jam, Elle-Erre Easy Flag, Rock&Ride, Jart Skateboard, and Moon. You can follow the World Rookie Tour on our international media partners Sequence Magazine, Boardriding.com, Prime Snowboarding, Prime Skiing, Sourge Skateboarding, and Quattro Media.
Photo credit: Ania Grzerla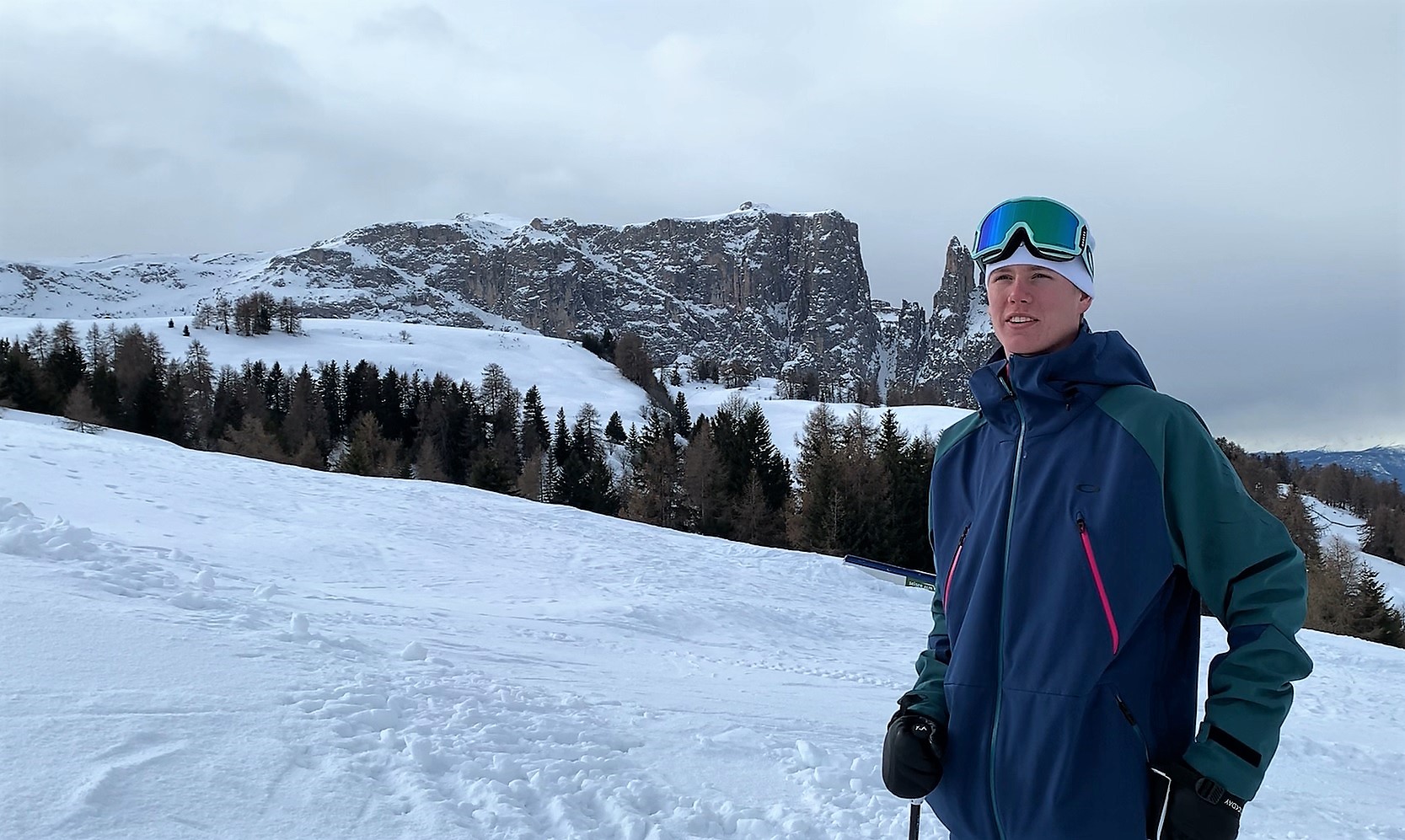 2019.20 World Rookie Tour Freesking – Calendar
Summer Rookie Jam // Les 2 Alpes . FRA // 13-20.07.2019 // SS/BA/HP – DONE
NZ Rookie Fest // Cadrona . NZL // 14-17.08.2019 // SS/HP – DONE
NZ Show Down Rookie Fest // Cadrona. NZL // 04-06.10.2019 // SS/BA/HP – DONE
Colorado Rookie Fest // Vail . USA // 26.01.2020 // HP – DONE
REV TOUR Rookie Fest // Mammoth Mountain. USA // 05-06.02.2020 // SS/HP DONE
Colorado Rookie Fest // Keystone A51 . USA // 09.02.2020 // SS DONE
Balkan Rookie Fest // Sofia . BUL // 13-16.02.2020 // SS CANCELLED
Innsbruck Rookie Fest // Innsbruck, Skyline Park. AUT // 14-16.02.2020 //SS DONE
Ursus Rookie Fest // Madonna di Campiglio. ITA // 15-19.03.2020 // SS
Kronplatz Rookie Fest // Kronplatz. ITA // 20-22.03.2020 // SS
World Rookie Finals // Seiser Alm. ITA // 23-27.3.2020 // SS2019.20 World Rookie Tour Snowboard – Calendar
Summer Rookie Jam // Les 2 Alpes . FRA // 13-20.07.2019 // SS/BA/HP – DONE
NZ Rookie Fest // Cadrona . NZL // 14-17.08.2019 // SS/HP – DONE
NZ Show Down Rookie Fest // Cadrona. NZL // 04-06.10.2019 // SS/BA/HP – DONE
World Rookie Fest // Livigno . ITA // 11-15.01.2020 // SS – DONE
Colorado Rookie Fest // Vail . USA // 26.01.2020 // HP – DONE
QKLS Rookie Fest // Ruka . FIN // 29.01-02.02.2020 // SS DONE
REV Tour Rookie Fest // Mammoth Mountain. USA // 07-09.02.2020 // SS/HP DONE
Colorado Rookie Fest // Keystone A51 . USA // 08.02.2020 // SS DONE
Balkan Rookie Fest // Sofia . BUL // 13-16.02.2020 // SS CANCELLED
Young Guns Rookie Fest // Takasu. JPN // 16.02.2020 // HP DONE
Indy Park Jam Rookie Fest // Nekoma. JPN // 14.03.2020 // SS
Ursus Rookie Fest // Madonna di Campiglio. ITA // 15-19.03.2020 // SS
World Rookie Finals // Kitzsteinhorn, Zell Am See-Kaprun . AUT // 31.03-05.04.2020 // SS/HP