Discover all the info about rank and take some note about next stops:
Hamburg Rookie Fest (GER) and Romagna Rookie Fest (ITA)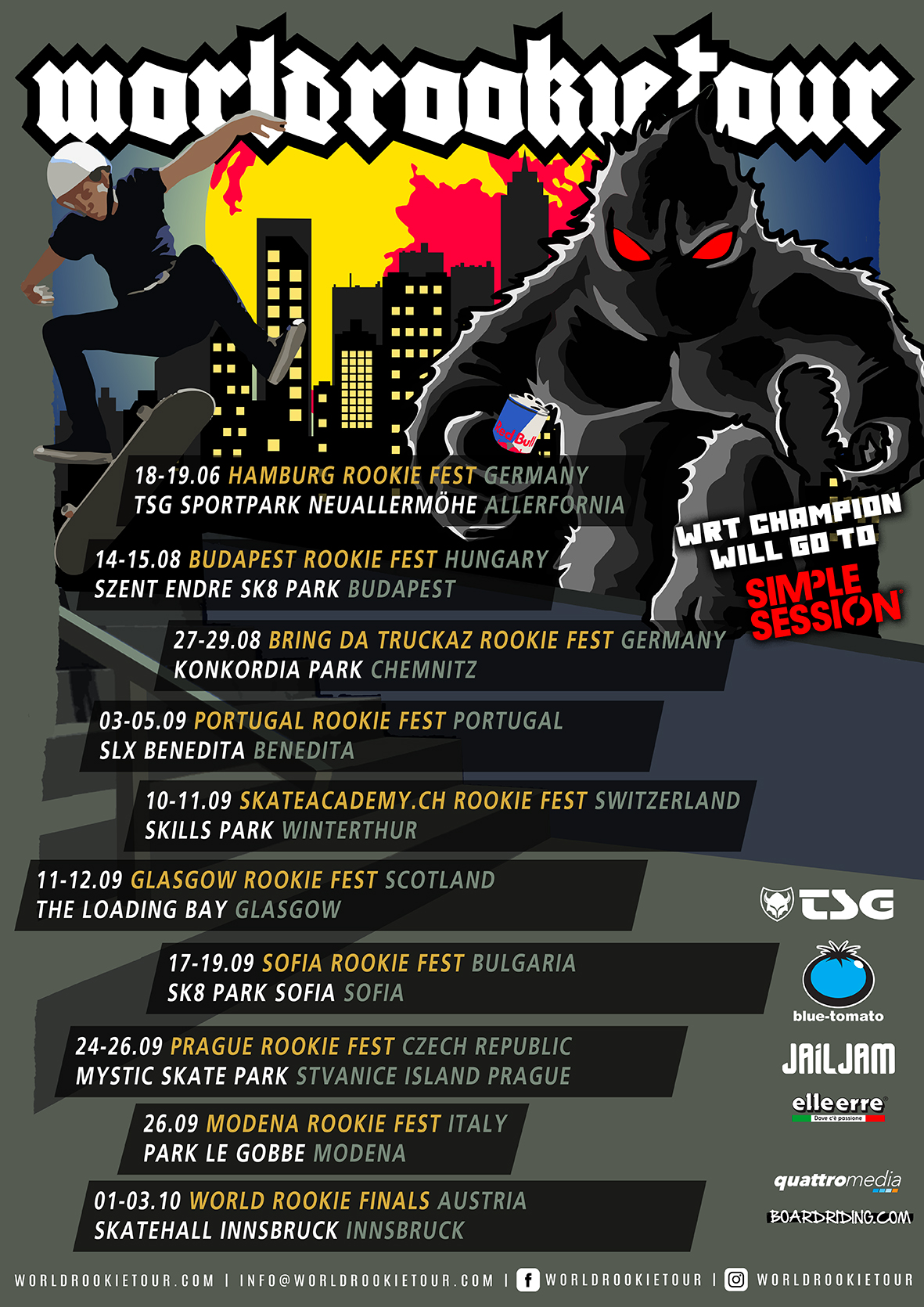 Ready to drop into the history? The World Rookie Tour is working hard to make the best approach about our events and the final qualification criteria. That's why the Black Yeti is ready to launch the new World Rookie Rank for skateboarding!
The Skateboard Rookie Rank is a ranking system developed as a qualification criterion for the World Rookie Finals and as a base for National Rookie Ranks. During the World Rookie Tour each official WRT event and many other partner events, will assign valuable points for the World Rookie Rank. At the moment the featured events are only street competitions organized by local clubs, organizers or national Sk8 federations.
Not only events the World Rookie Fest´s can be part of the Skateboard Rookie Rank. Any event can be part of the Skateboard Rookie Rank as long as grom – and rookie aged riders participate as well. For example, the European Best Foot Forward Tour by Blue-Tomato, featuring 10 stops all over Europe, for riders of all ages in one group, is already part of the Skateboard Rookie Rank.
Skateboard Rookie Rank registration and information for Organizer´s under this email address: registration@worldrookietour.com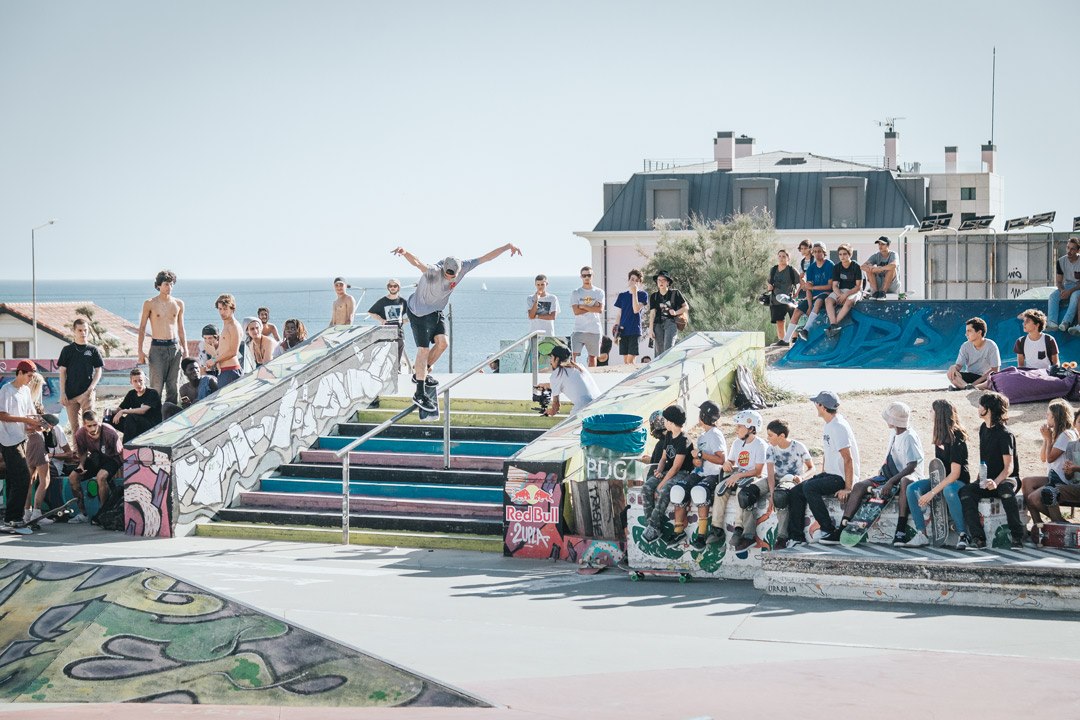 The rider's position in the ranking is determined by his/her average rank points calculated from three best results in the respective discipline (at the moment street only). The total summary points of 3 results or less divided always by 3 (also in case there is only one or 2 results).
Skateboard Rookie Rank is available here: www.worldrookietour.com/ranking
Categories for 2021:
Skateboard Rookie Rank – Girl Rookie (01.01.2000 and younger)
Skateboard Rookie Rank – Boy Rookie (born 01.01.2000 till 31.12.2005)
Skateboard Rookie Rank – Boy Grom (born 01.01.2006 and younger)
Skateboard Rookie Rank – Boy Overall (Rookie and Grom Man together)
Note About Girl Grom Category
We decided for the first season to have only one rank for Girls. This is due to the lower participation of Girls and the fact that, on almost all events at the moment, there is not a full Rookie and Grom Girls Podium. This leads to inconsistency in the Rank. But in general we are a big Fan of Girls Skateboarding and will have as well Grom Girls Podium with prices on all events with at least 3 participants per category, including the awarding of quali Tickets to the Finals.
Complete Qualifying Criteria for the finals here
Hamburg Rookie Fest
Just to remember you that World Rookie Tour Skateboard will kick-off in Germany from the 18th to the 19th of June 2021! The Allerfornia Skatepark is looking for you!
For all the event info, program and registration form, please click to www.worldrookietour.com/hamburg-rookie-fest-sk8
Romagna Rookie Fest
Italy with the city of Forlì, is waiting for all the enthusiastic rookies from all over the "Bel Paese" for the only Italian quali of the 2021 WRT Skateboarding.  he opportunity is huge: taking part of one of the best skate contest for the young rippers and discover one of the best region in Italy!
In fact, on July the 4th the best skaters in the national panorama will compete at the Paranoid Skatepark in Forlì, during one on the skate events of the circuit promoted by the FISR Emilia Romagna.
All the information about the Romagna Rookie Fest will be available soon on www.worldrookietour.com
2021 World Rookie Tour Skateboard Calendar
Hamburg Rookie Fest – TSG Sportpark, Allerfornia, Germany, 18-19 June 2021
Romagna Rookie Fest – Paranoid Skatepark, Forlì, Italy, 4 July 2021
Budapest Rookie Fest – Szent Endre Sk8 Park, Budapest, Hungary, 14-15 August 2021
Bring da Truckaz Rookie Fest – Konkordia Park, Chemnitz, Germany, 27-28 August 2021
Portugal Rookie Fest – SLX Benedita, Portugal, 3-5 September 2021
Skateacademy.ch Rookie Fest – Skills Park, Winterthur, Switzerland, 10-11 September 2021
Glasgow Rookie Fest – The Loading Bay, Glascow, Scotland, 11-12 September 2021
Sofia Rookie Fest – Sk8 Park Sofia, Bulgaria, 17-19 September 2021
Prague Rookie Fest – Mystic Skate Park – Prague, Czech Republic, 24-26 September 2021
World Rookie Skateboard Finals – Skatehall – Innsbruck, Austria, 1-3 October 2021
For Snowboard, Freeski and Skateboard Calendar, please check the last online version here.
Due to the still on-going Pandemic changes in the calendar are possible, so keep yourself updated over our homepage.