The Black Yeti will stop at Glasgow, UK this winter! Freestyle riders in both free-ski and snowboard, born after 1st Jan 2004 can join!
DOWNLOAD HERE INFO SHEET AND REGISTRATION FORM
The Black Yeti makes a stop in Scotland, UK, in the beautiful city of Glasgow, located at the heart of the country. Known for its friendly people, cosy restaurants and beautiful architecture, Glasgow is a perfect place for snowsports as well. Few freestyle parks are available in the city together with skateparks and a wake park. Join the UK rookie fest, come around and see by yourselves!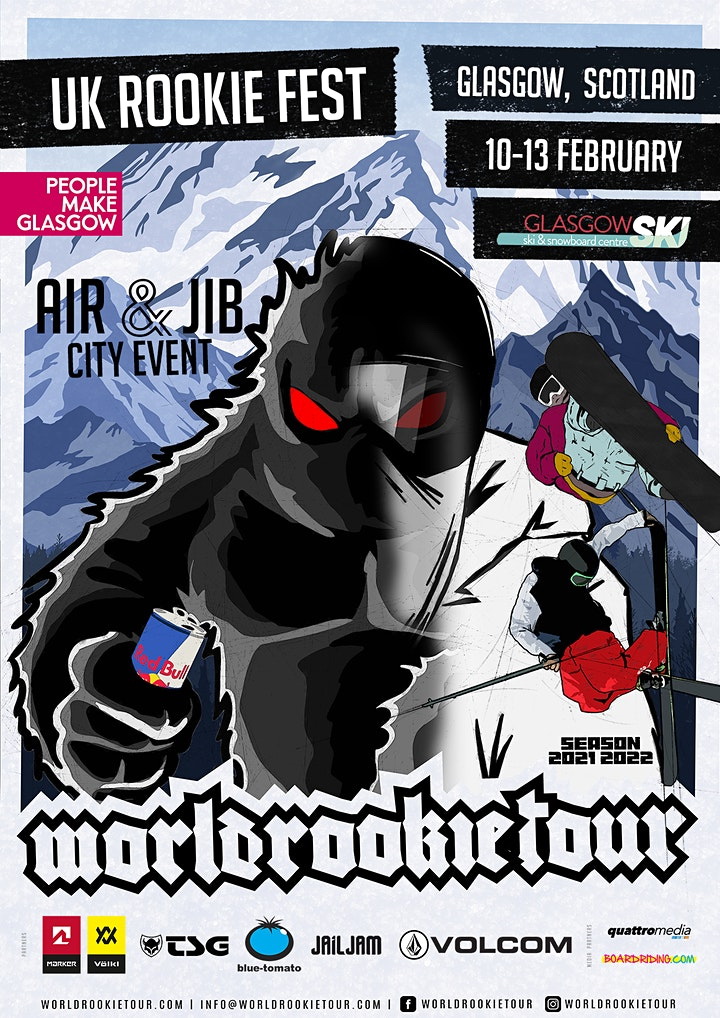 Age Groups 2021/2022 World Rookie Tour events are reserved to Rookies (born from 1st of January 2004 to 31st of December 2006) and Groms (born from 1st of January 2007 and up), both male and female. All contests in the World Rookie Tour will generate valuable results for the World Rookie Rank and all the riders on the podium will be qualified for the end of season World Rookie Finals.
The World Rookie Tour is organized by the Black Yeti company in collaboration with National and International Sports Associations and it is made possible by Red Bull, Volcom ,Völkl, Marker, TSG Protection, Jail Jam. You can follow the World Rookie Tour on our international media partners Boardriding.com, Prime Snowboarding, Prime Skiing, Sourge Skateboarding, Sequence Magazine and Quattro Media.