The second edition of the World Rookie Rail Jam by Skipass came to an end and also this year the Rookies and the Groms were welcomed by the warm Italian temperature at Skipass tradeshow in Modena. The participants had the opportunity to compete on the best urban rail set up in Europe, designed and built by the shapers of F-Tech company based in South Tyrol.
This year the massive structure was completely reshaped and consisted of a pyramid bank with a gallery, in the middle, and a C Rail, at the top of the structure. Here the riders were able to express their style and their creativity with spectacular tricks and combos.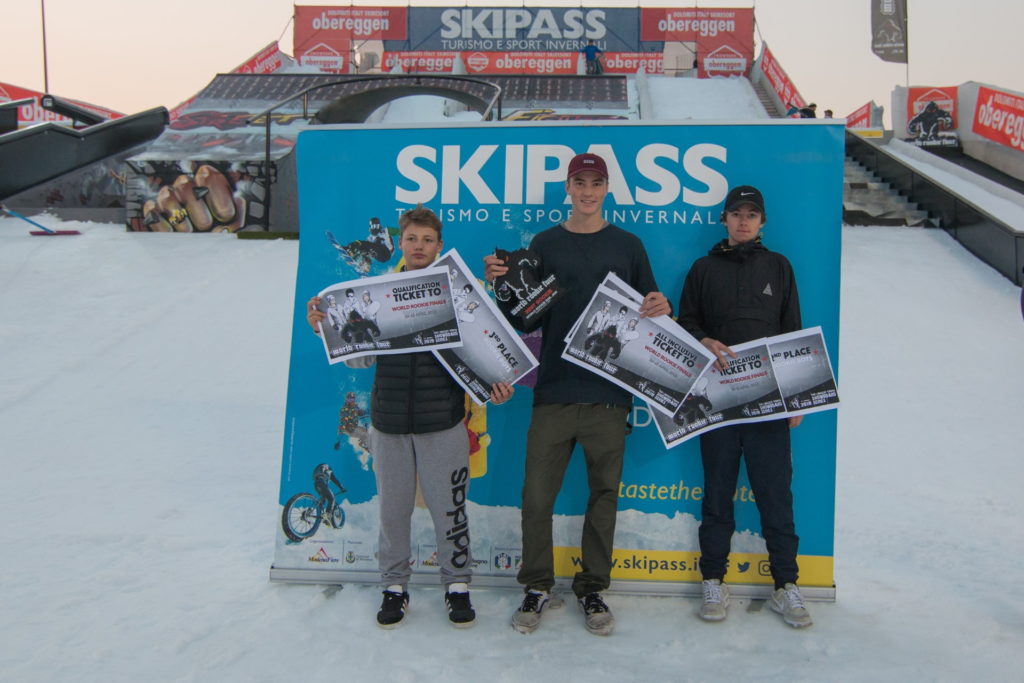 It was a great contest that saw 33 Rookies from 6 different Nations showed their best in oder to be qualified for the 2018 World Rookie Finals in Kitzsteinhorn at Zell am See- Kaprun! But it was the Swiss Philip Schwan who took the first place with his Gap  Fs  270 in 270 out. On the podium also Cedric Neff (SUI) ranked second and Nick Puenter (SUI) ranked third both with impressive run and style.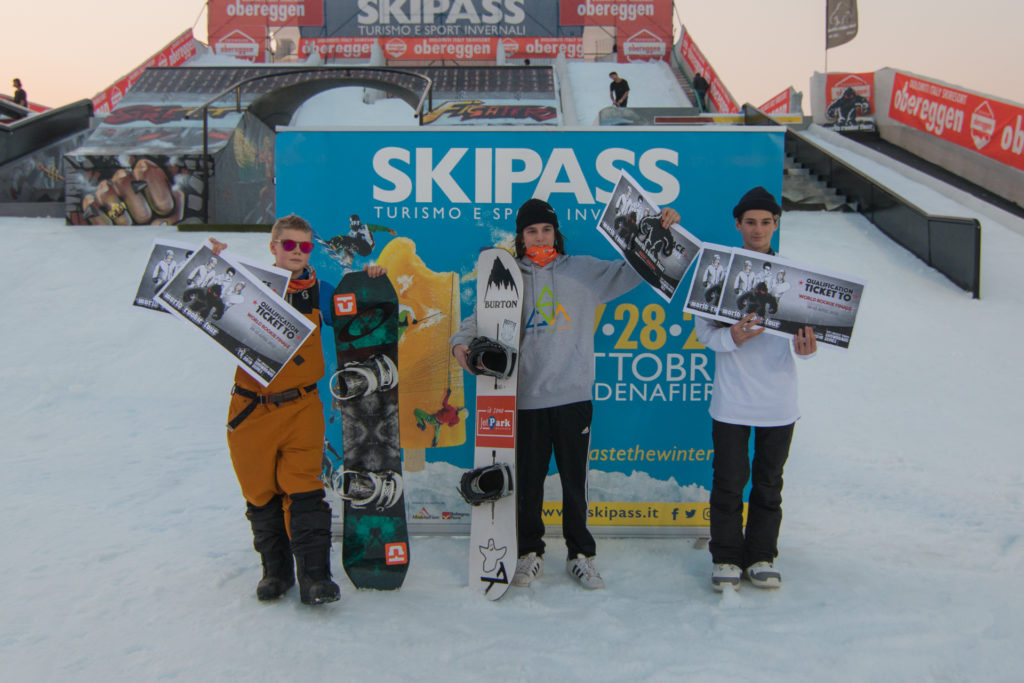 Alex Lotorto (ITA) won the first place in the Grom's category with an impressive Gap Bs 270 in. Second Adams Gabriel William George (GBR) and third Benni Fridbjomsson (ISL).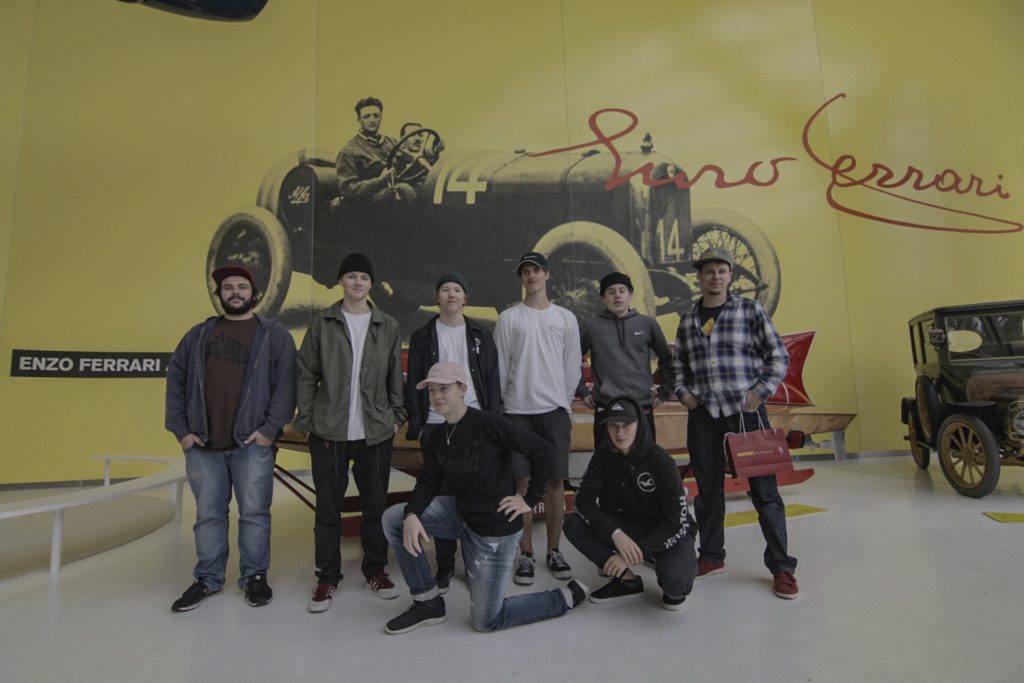 However being part of the World Rookie Tour also means to get to know new cultures and so did the Rookies, who visited the Casa Enzo Ferrari Museum in Maranello Modena and took a look to the beautiful old vintage cars and new cars. The last day they also had fun together in the Le Gobbe skatepark and in the evening they couldn't resist to the delicious Italian pizza.
The tour goes on. Have a look at the World Rookie Tour events agenda below and see the closest event to you! Next stop will be in Corvatsch from the 14th to the 17th December 2017: all the information to join the upcoming WRT event in Engadina, Switzerland, will be available soon.
Download the ranking of the 2017 World Rookie Rail Jam by Skipass  here.
2017.18 World Rookie Tour – Provisional Calendar
NZ Rookie Fest. Cardrona, New Zealand. October 05-08, 2017. Halfpipe and Slopestyle DONE
World Rookie Rail Jam. Modena, Italy. October 26-28, 2017. Urban Rail Jam DONE
Corvatsch Rookie Fest. Corvatsch, Swiss. December 13-17, 2017. Slopestyle
Deejay Xmasters World Rookie Fest. Livigno, Italy. January 20-25, 2018. Slopestyle
Bulgarian Rookie Fest. Pamporovo-Mechi Cal, Bulgaria. January 26-28, 2018. Halfpipe and Slopestyle
USASA Grom Fest. Keystone, USA. February 10, 2018. Slopestyle
Valle d'Aosta Rookie Fest. Pila, Italy. February 21-25, 2018. Slopestyle
USASA Grom Fest. Breckenridge, USA. February 25, 2018. Halfpipe
Indy Park Rookie Fest. Nekoma, Japan. March 03-04, 2018. Slopestyle
Oslo Rookie Fest. Oslo, Norway. (to be confirmed)
Mammoth Rev Tour Rookie Fest. Mammoth Mountain, California. March 15-16, 2018. Halfpipe and Slopestyle
World Rookie Finals. Kitzsteinhorn, Zell am See-Kaprun, Austria. April 10-15, 2018. Halfpipe and Slopestyle
More event in North America, Europe and Asia will be announced soon!
Follow the World Rookie Tour online
Facebook fan page: www.facebook.com/worldrookietour
Vimeo channel: www.vimeo.com/channels/worldrookietour
mail for info: info@blackyeti.info