Ariane Burri and Takeru Otsuka won today Slopestyle competition and are, therefore, 2018 World Rookie Girl and Boy Champion. Hironori Nagata and Misaki Kakubari from Japan are the new 2018 World Rookie Tour Halfpipe Boy and Girl Champions!
For the 2018 edition of the World Rookie Finals, 141 riders from 24 different countries arrived in Kaprun, Austria, with incredible motivation and willingness to perform their best, but also to have fun and enjoy one week all together at the Jufa Hotel. The Kitzsteinhorn Snowpark was the perfect playground for the long-awaited final, with an amazing slopestyle course and a perfectly shaped halfpipe, whereas the Jufa Hotel was the place to be to join relaxing and interesting workshops in the afternoon.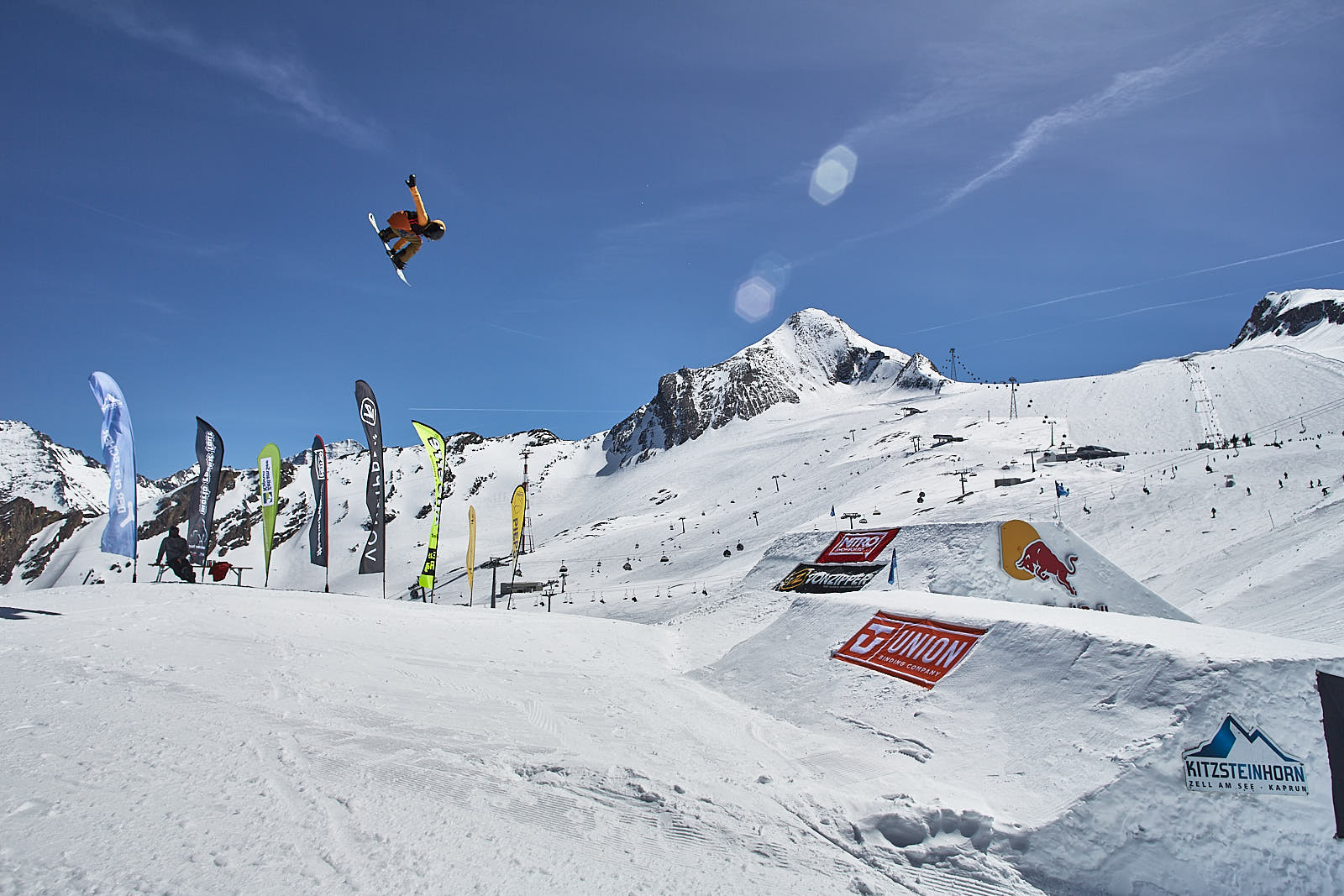 After the good day for the halfpipe qualis and finals, also on Saturday, the weather decided to be once more time on the young snowboarders' side and everybody enjoyed a sunny and pleasant day up in the Kitsteinhorn snowpark.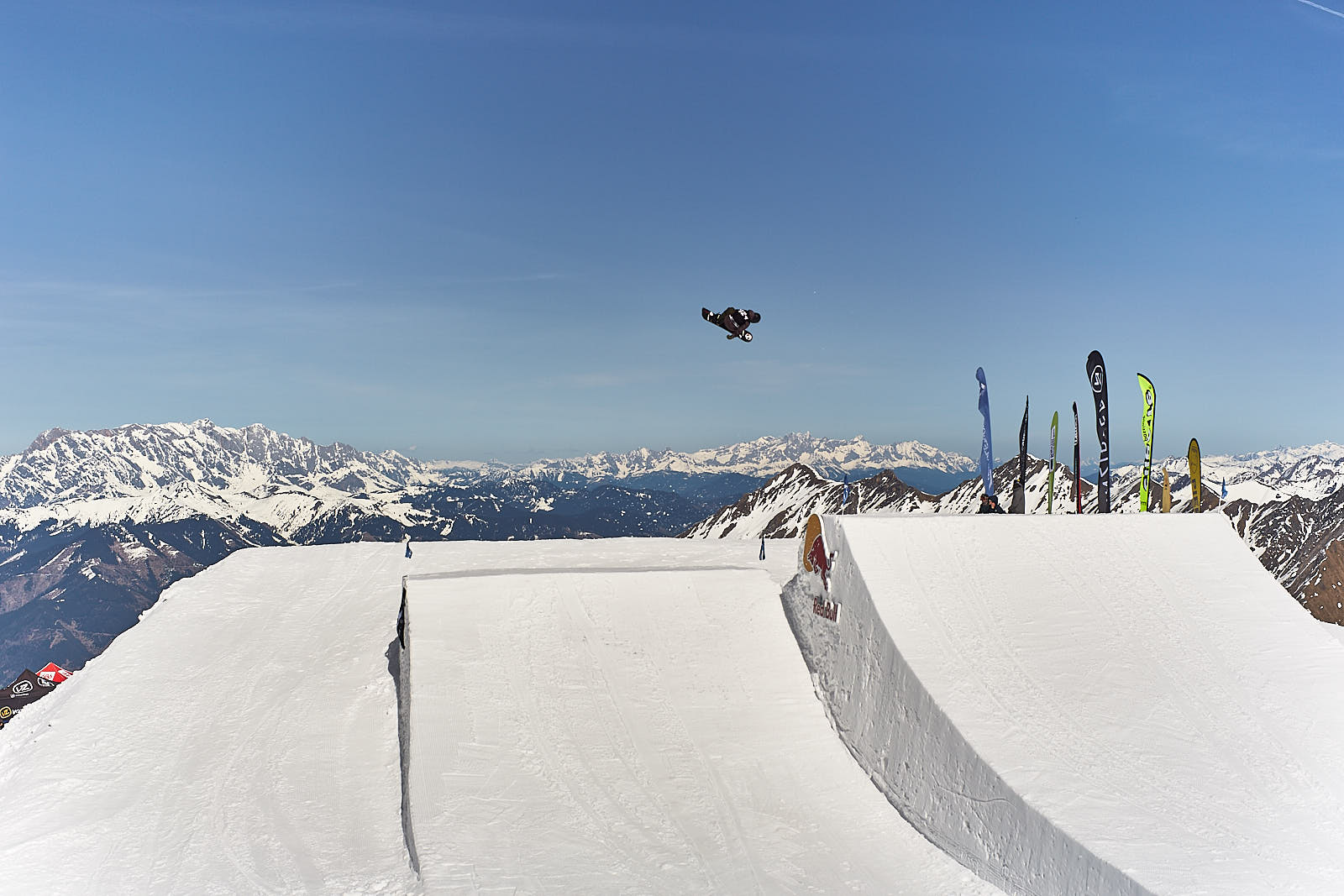 Ariane Burri and Takeru Otsuka are the new Slopestyle World Rookie Champions after two incredible runs and tight "fights" with the other rookies in the finals. Even though, all riders are under 18 years of age, the level was incredible and technical tricks were performed during both the qualis and the finals.
For the second year in a row, in the rookie category, together with a previous win as grom, Takeru Otsuka best expressed himself with a backside double 1260 mute, cab double 1260 indy on the jumps, and a frontside 270 back lip to fakie and switch board slide 270 out on the jib line. The rookie podium was dominated by riders from Japan, Okubo Yuri and Ryuma Kimata joined Takeru on the podium.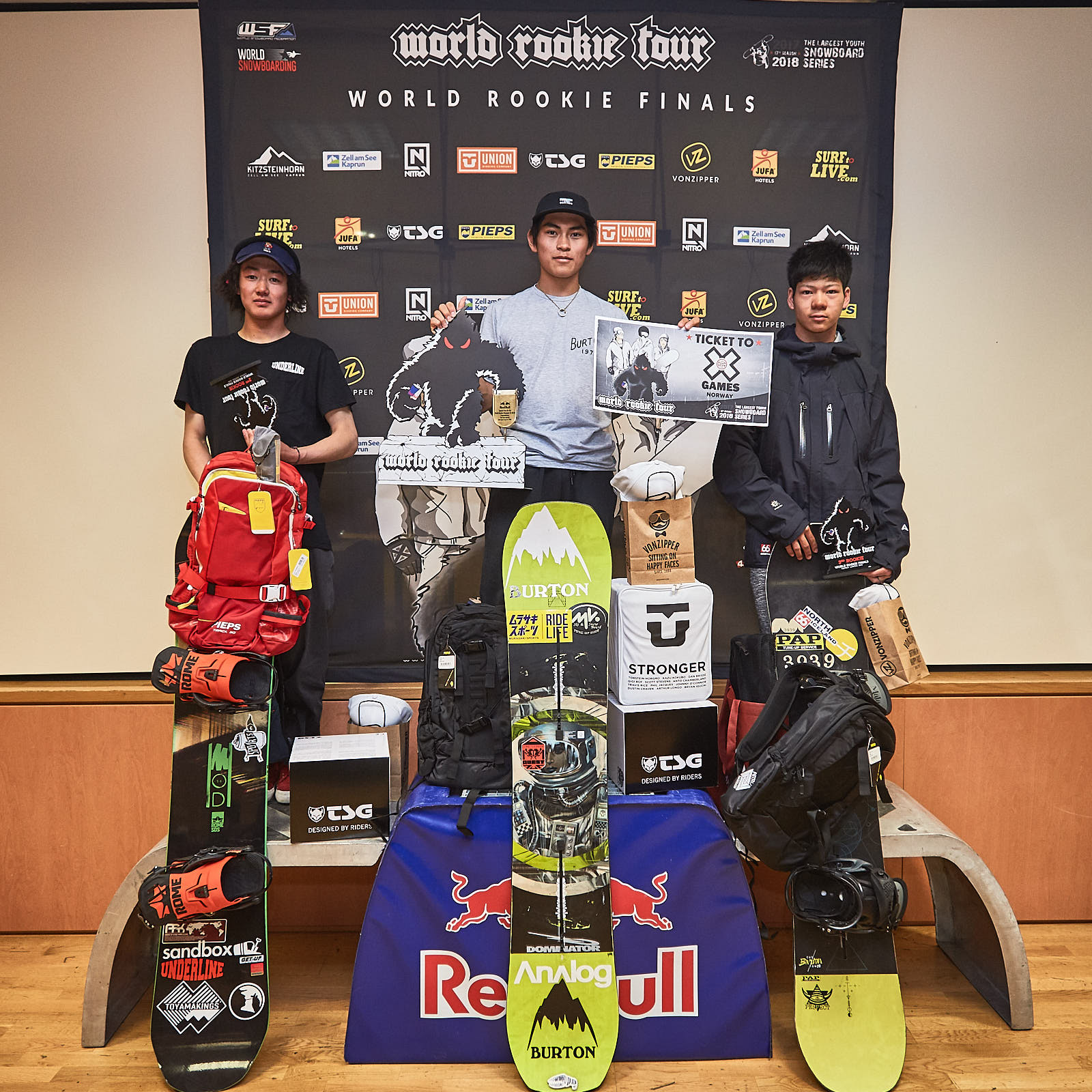 Japan dominated also the grom category, with an amazing Yuto Yamada, who performed a cab 900 mute, backside double 1080 mute on the jumps, backside 270 in 270 out, cab 270 in 270 out and lip slide 270 out on the rail section. He was followed by Gabriel Adams from Great Britain and Jake Canter, from USA and Halfpipe winner of yesterday.
Ariane Burri from Switzerland took the first place in the girls rookie category, showing to the judges her style with cab 540 tail, backside 720 mute, frontside nose slide, board slide and to conclude a backside boardslide. Ariane was followed by Iina Puhakka and Eveliina Taka from Finland.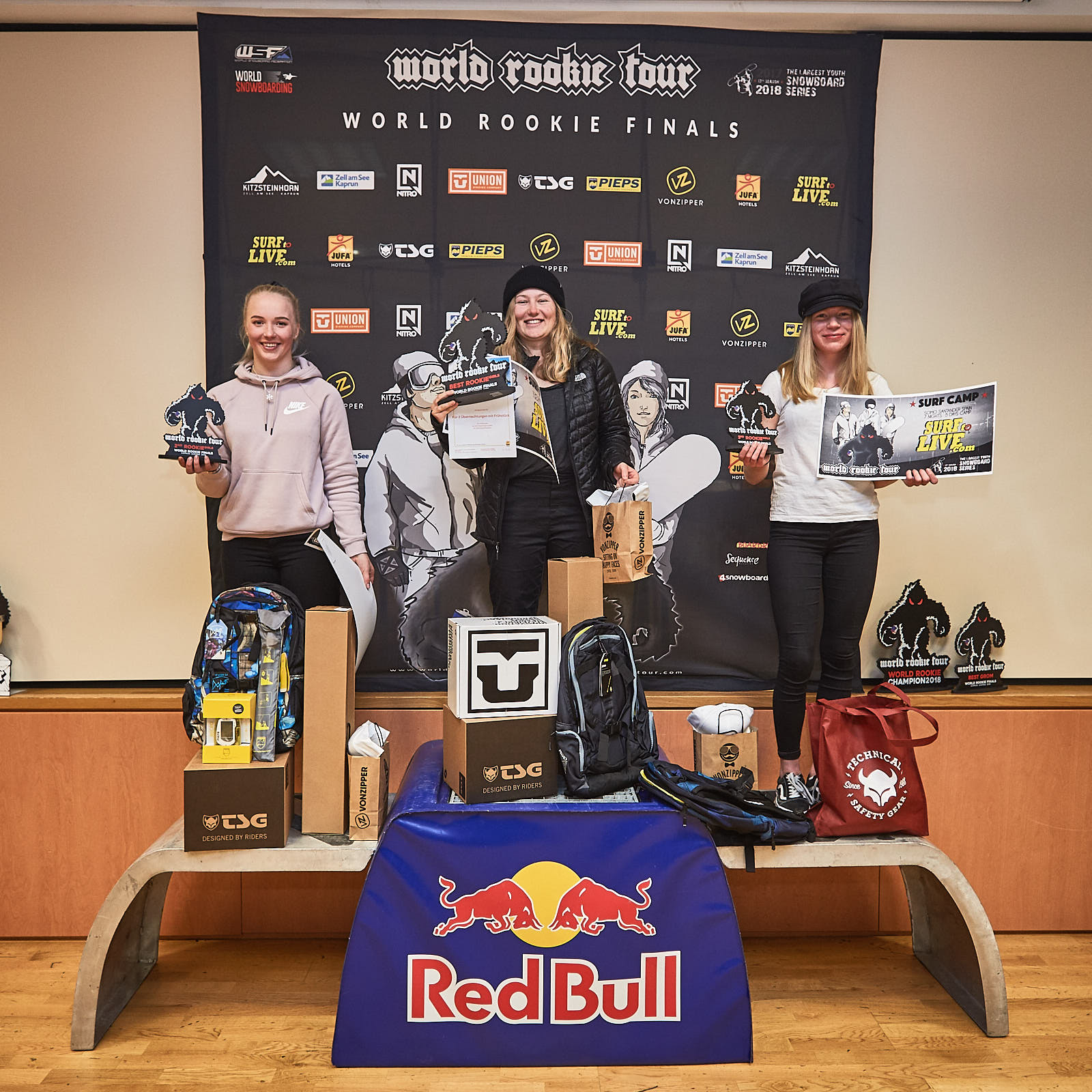 Among the groms, Kokomo Murase from Japan has won for the third year in a row the World Rookie Girl Grom Champion here at the World Rookie Final, taking the female snowboarding to the next level, with an unbelievable run, scored 99.66 points: she landed perfectly a frontside 720 melon, an incredible backside double cork 1080 mute, backside boardslide to switch, switch board slide to normal and noseslide to finish up an amazing run. Evy Poppe from Belgium and Mia Brookes from Great Britain joined the smiling Kokomo in the top three positions of this female grom finals.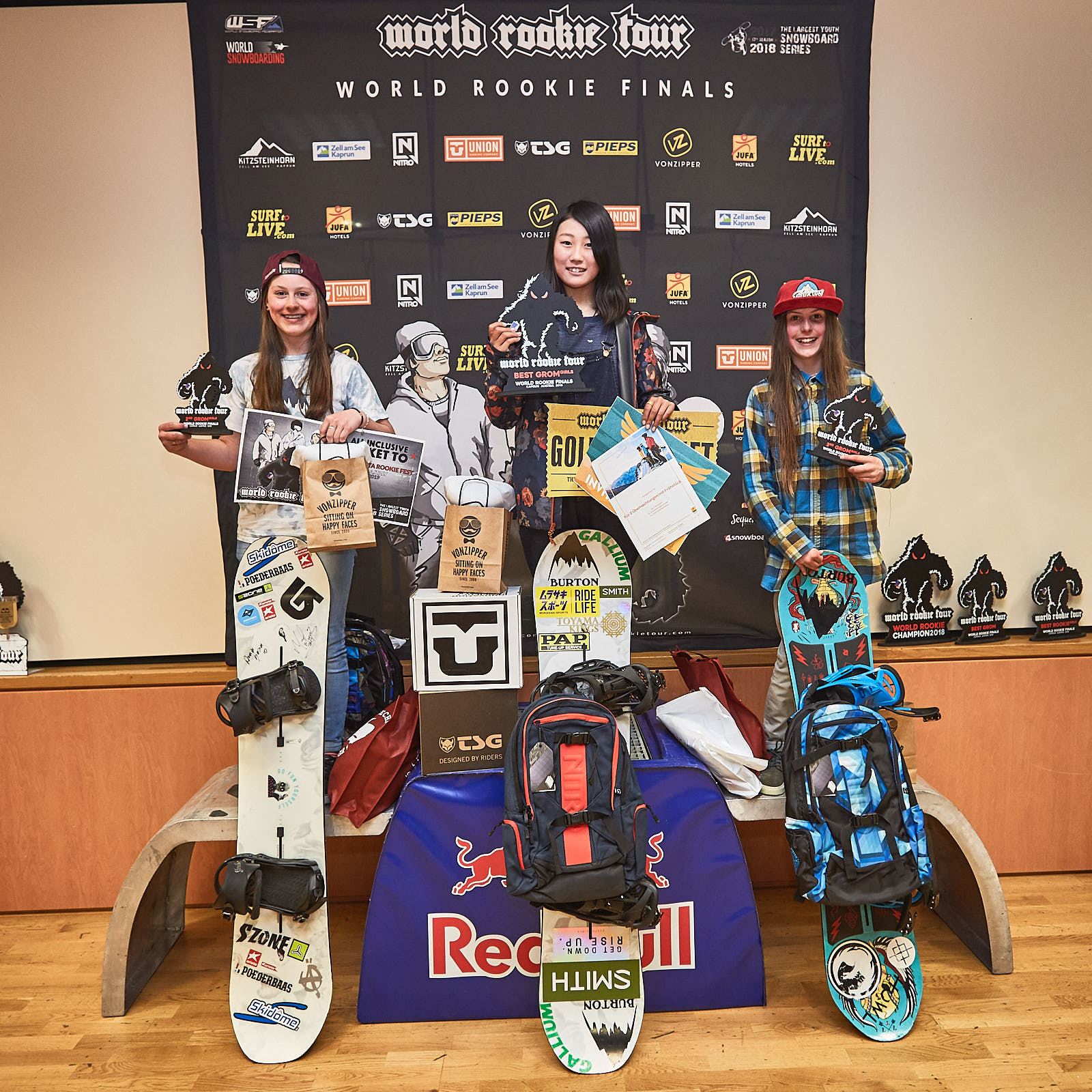 Misaki Kakubari, from Japan, excelled in her halfpipe run, with technical tricks and good amplitude, winning the trophy as 2018 Halfpipe World Rookie Girl Champion, thanks to an amazing run with a frontside 720 melon, cab 360, frontside 540 melon, backside 540 mute and to finish it up a frontside 360 indy. The podium was completed by Iina Puhakka from Finland and Makayla Kellogg from USA.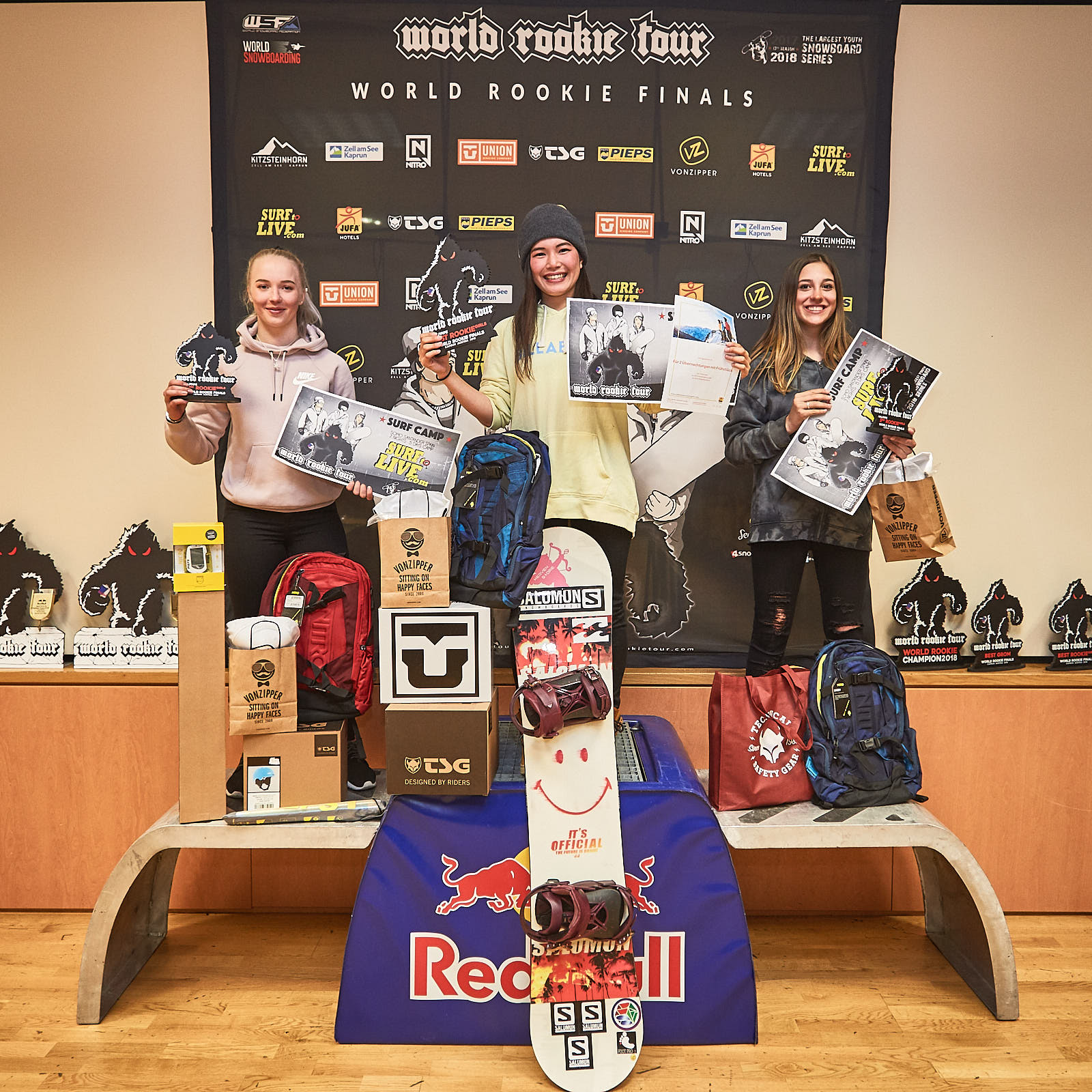 In the grom girls category, Mitsuki Ono from Japan gained the best score of the day in her category with an amazing run: cab 720 stalefish, frontside 540 tail, backside 540 stalefish and a stylish frontside air indy. She was followed by Tessa Maud from USA and Elena Schütz from Switzerland.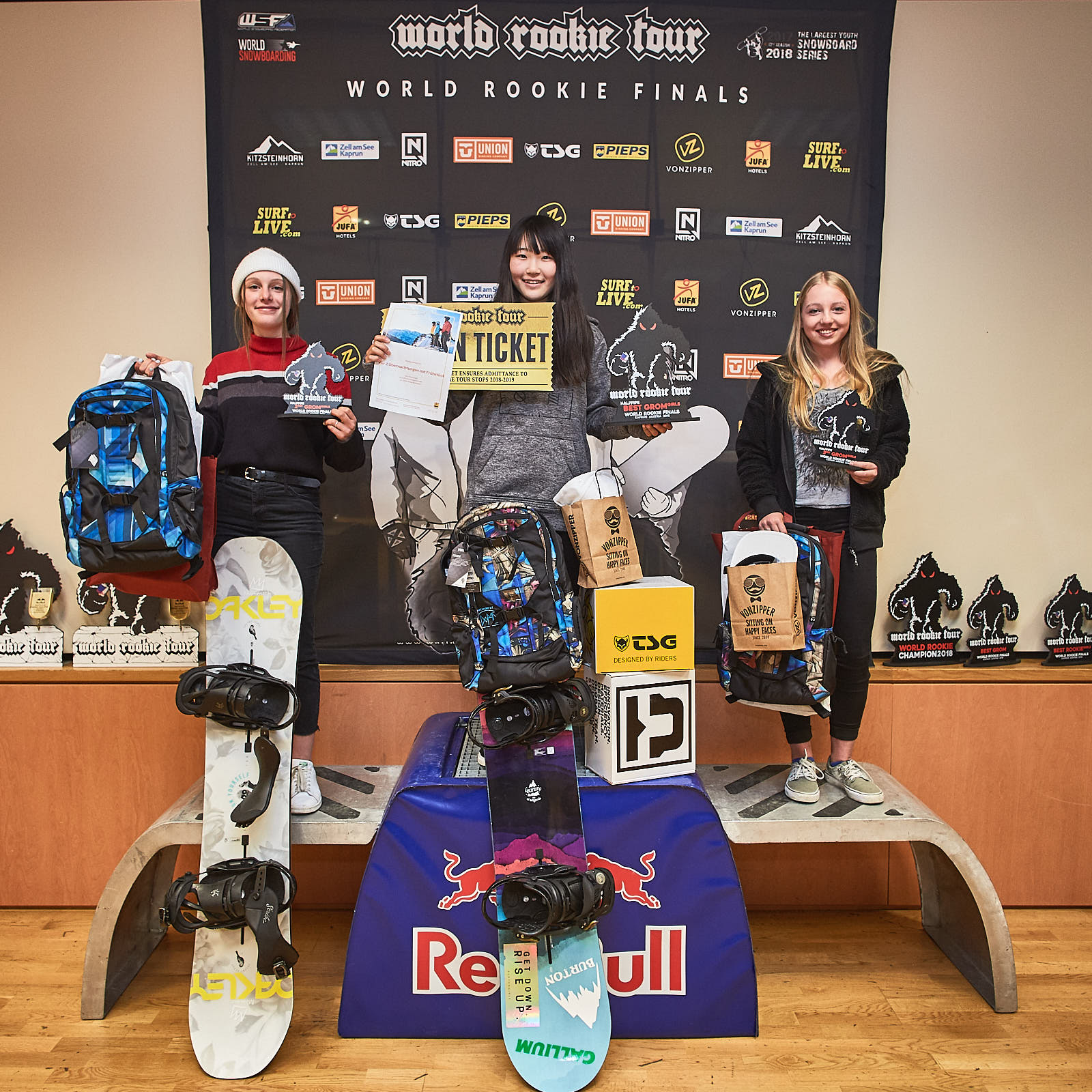 Among the rookie boys, the competition showed to everybody that among all of them, there are the future stars of snowboarding. Hironori Nagata from Japan showed some spectacular tricks combined with his unique personal style, in particular he showed everybody a huge frontside air indy, backside 540 stalefish, frontside 1080 melon, hakon 720 mute and frontside 720 melon to conclude and he was crown 2018 Halfpipe World Rookie Champion. Joonsik Lee from Korea and Jack Coyne from USA completed the podium battling until the last trick to improve their scores.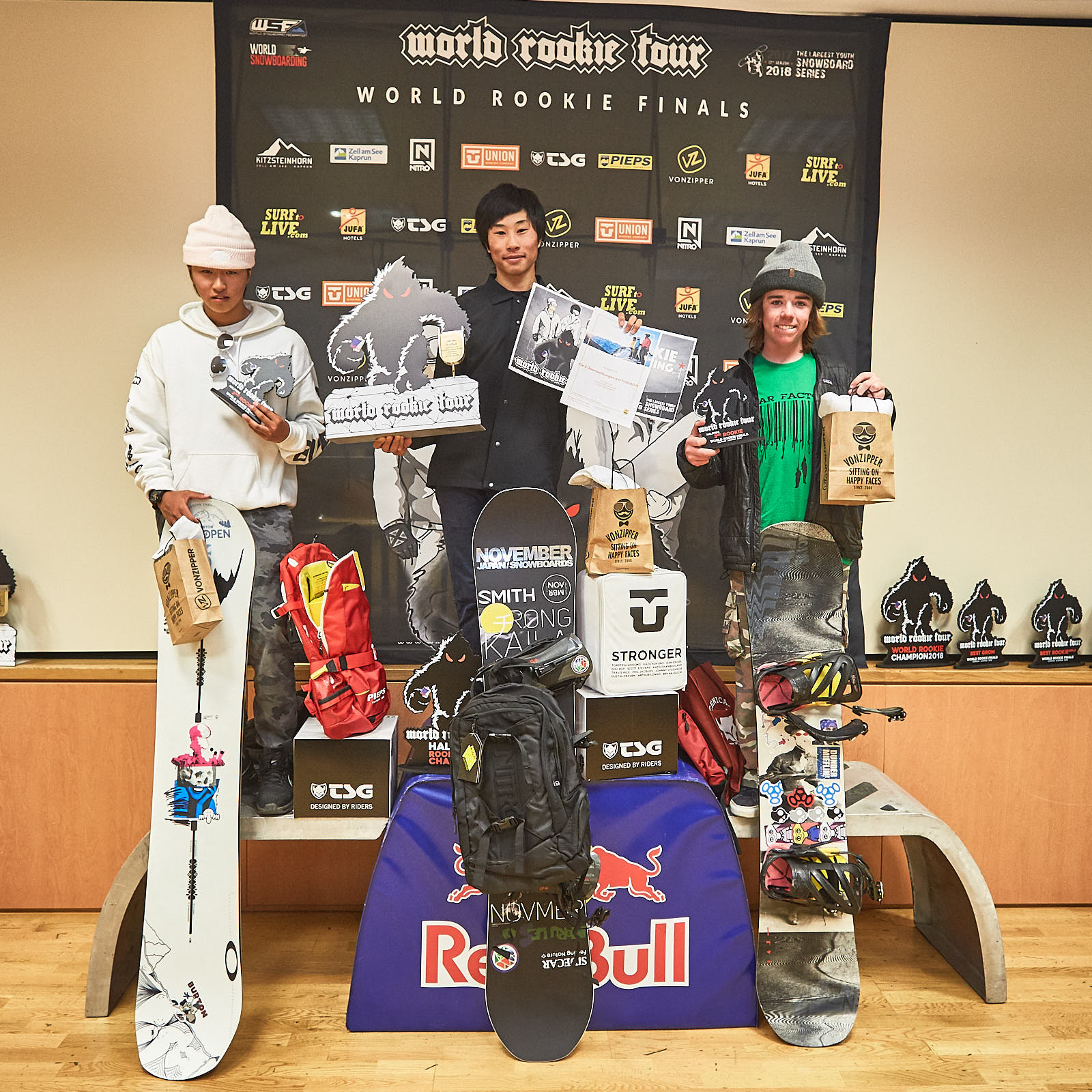 Jake Canter from USA dominated the grom category. Jake performed a perfectly executed run, starting off with a perfectly executed backside air, frontside 900 tail, backside 540 mute, a frontside 720 tail and hakon 720 mute. Just behind Jake, Shin Negishi from Japan and Fynn Bullock-Womble took second and third place in the grom category.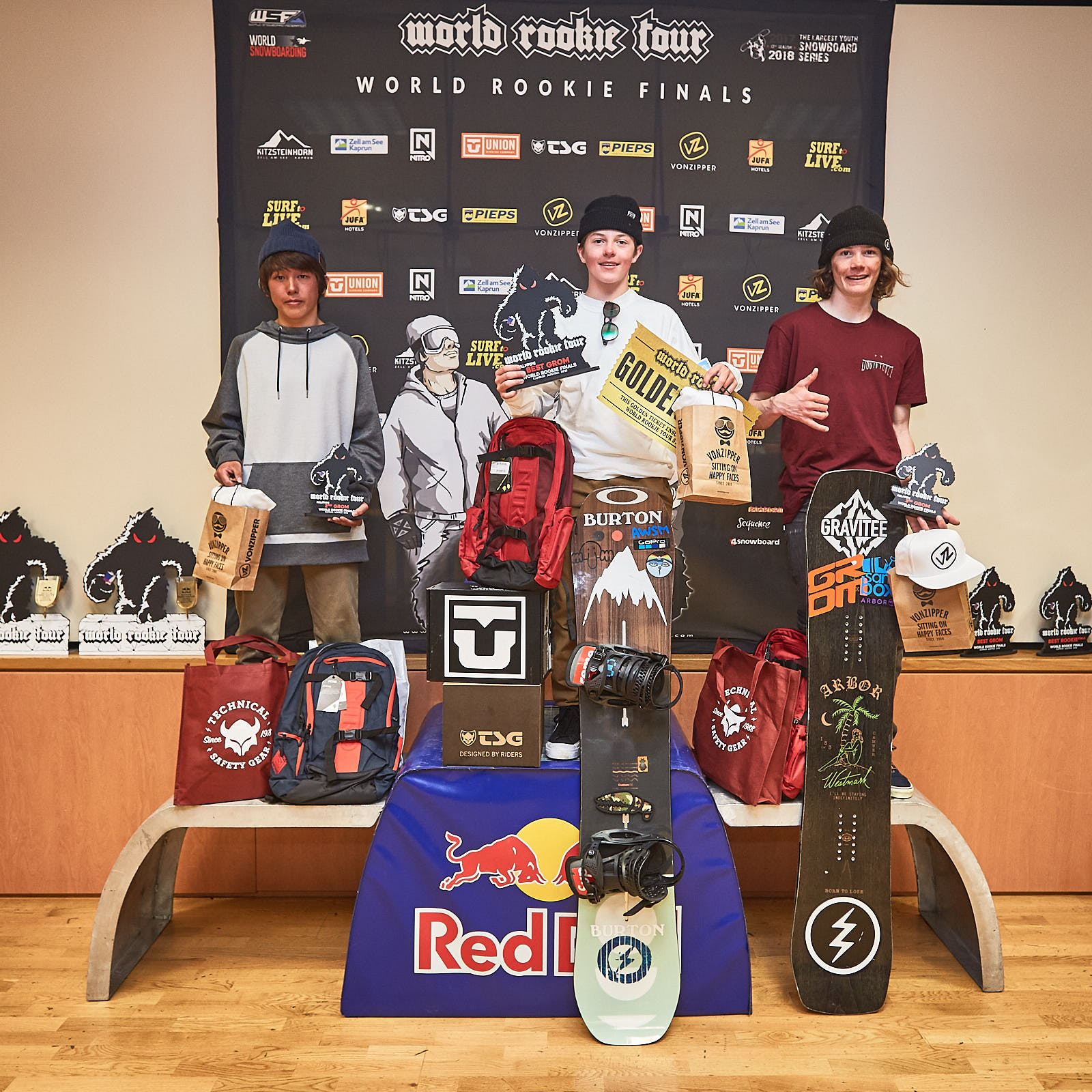 Check out the results lists here below:
– SP Rookie Boys Final
– SP Grom Boys Final
– SP Rookie Girls Final
– SP Grom Girls Final
– HP Rookie Boys Final
– HP Grom Boys Final
– HP Rookie Girls Final
– HP Grom Girls Final
The World Rookie Finals thanks all its Sponsors and WRT Friends for the amazing prices: Zell am See – Kaprun, Snowpark Kitzsteinhorn, Nitro Snowboards, Union Bindings Company, TSG, Pieps, Von Zipper, Jufa Hotels, SurfToLive, RedBull, Boardriding.com, Kimiyo, XGames Norway, Spring Battle at Absolute Park – Flachauwinkl.
Photo Credits by Gustav Ohlsson