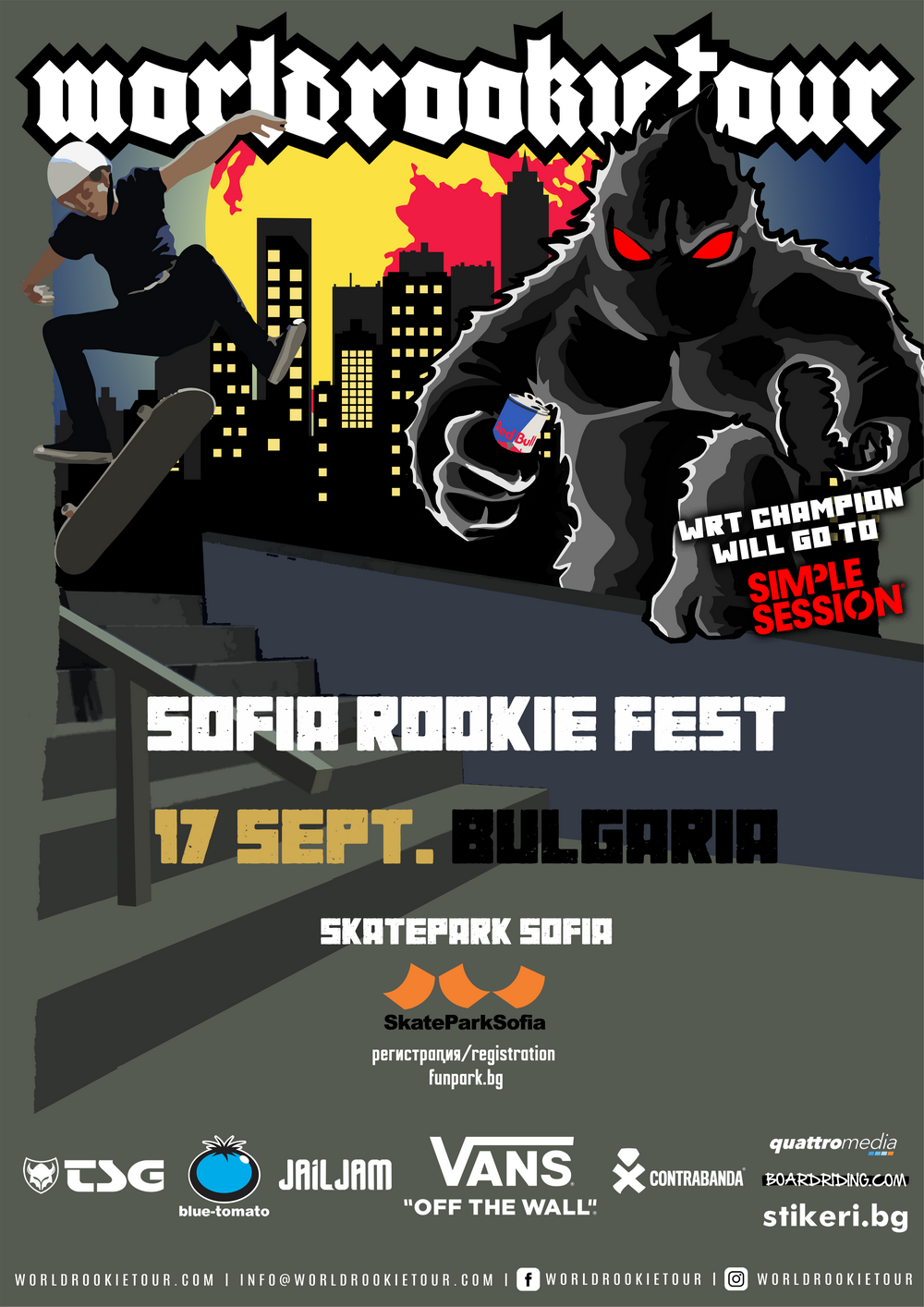 Sk8 Park Sofia, Bulgaria, 17-19 September 2021
From 17th to the 19th September is time to fly to Sofia, for the first WRT skateboard event! in Bulgaria! Skate Park Sofia is ready to host the Black Yeti and his little followers!
The winners in each category qualify to World Rookie Skateboard Finals at the Skatehall in Innsbruck, Austria, from October the 1st to October the 3rd 2021.The World Rookie Champion wins a ticket to the Simple Session in Tallinn, Estonia, and for the Mystic Sk8 Cup, Prague.
Location:
Skate Park Sofia
Event info:
60 slots for riders in total, both boys and girls, both grooms and rookies
The 2021 World Rookie Tour Skateboarding is dedicated to male and female skateboarders, divided in two age categories:
– Rookies born from the 1st of January 2000 to the 31st of December 2005
– Groms born from the 1st of January 2006 and younger.
Qualifications:
Jam session – two riders on course- 2 min Top 10 riders qualify for the final
Finals: two runs- 1 min, best run counts
Program
16. September 2021
Each rider can use up to 2 hours accesses to the park for practice between 12:00 and 18:00
17. September.2021
12:00-14:00 – Registration check in 14:00-16:00 – Qualifications
16:30 ~ 17:15 – Finals 17:30 – Price giving
Registration https://www.funpark.bg Event entry fee: 15 BGN
Prizes and benefits
All podium will get goodies from by our tour partners Blue tomato, TSG and Jail Jam.
World Rookie Rank
In the 2021 season there is also an important new element: the Skateboard World Rookie Rank! It is a ranking developed as an entry criteria for the World Rookie Skateboard Finals and as a base for National Rookie Ranks. During the World Rookie Tour, every event assigns valuable points for World Rookie Rank. www.worldrookietour.com/ranking
Contact us
wrt@funpark.bg