Mystic Sk8 Park, Štvanice Island, Prague, CZE, 07. Oct. 2023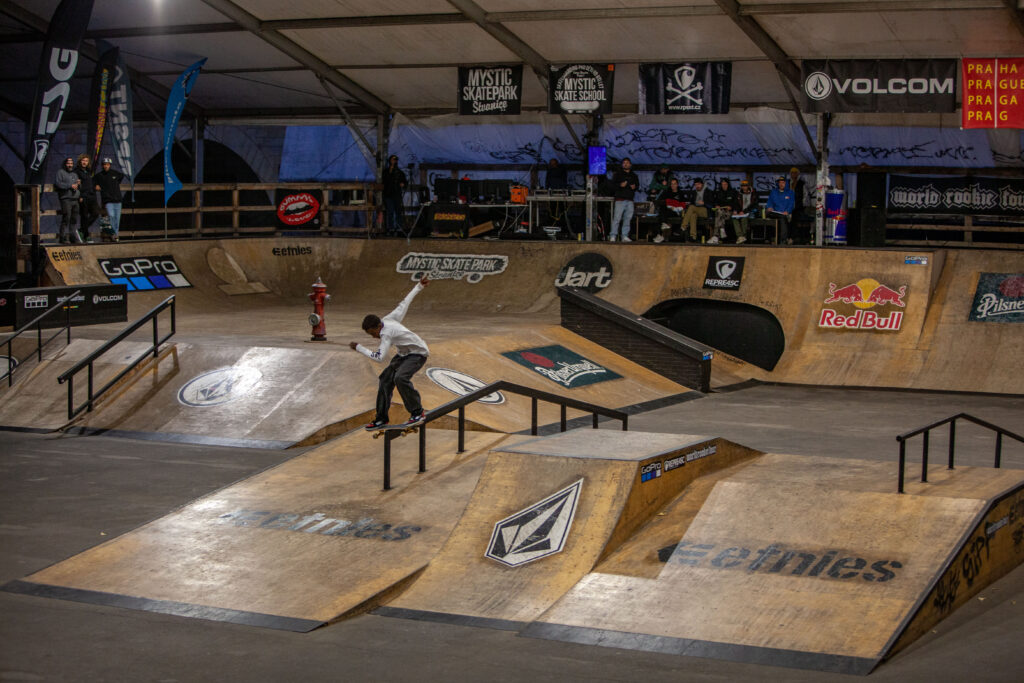 Mystic Sk8 Park in Prague, Czech Republic, welcomed 80 young skaters from 20 nations from all over the world, with teams representing Europe, Asia, America, Oceania and, for the first time in WRT Sk8 Finals, Africa. After a season of qualifying events all around the countries, the 2023 World Rookie Skateboard Finals welcomed the energies and the positive vibes of tomorrow's stars and offered all participants an immersive experience in the skateboard culture.
The event took place in a great international scenario: Mystic Skatepark is an iconic location on an island surrounded by river Vltava where the legendary Mystic Sk8 Cup started at the beginning of this century. The park is located in the middle of the beautiful city of Prague which, with its cultural and artistic attractions, offers riders and crew a unique travel and lifestyle experience.
Andres Martin Gramaglia Fusconi – 2023 World Rookie Champion
The skateboarders showcased an extremely high level of riding during a full day of qualification and finals and they competed for World Rookie Champions titles and tickets to world-class events such as Mystic Sk8 Cup and Simple Session.
In the Female category, British ripper Abbie Nicole Burns resulted the best in the comp and conquered the 2023 World Rookie Champion title. At only 14 years old, Abbie is the youngest WRT Skateboard Champion we ever had. Laura Zackova from the Czech Republic and Florence Ulrich Adcocks from Germany completed the female podium.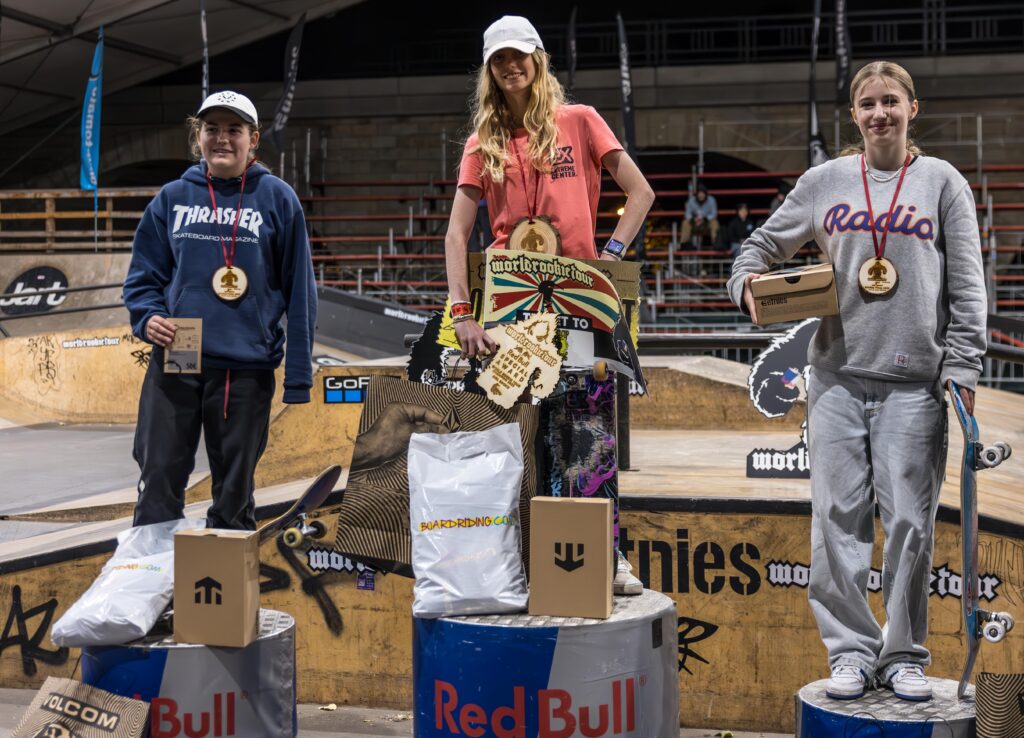 Girl Podium:first place Abbie Nicole Burns (GBR), second place Laura Zackova (CZE) and third place Florence Ulrich Adcocks (GER)
In the Grom Male division for under 14 years old riders, French rising star Axel Van Cuyck conquered the World Grom Champion Title, followed on the podium by Jesse Kloes (GER) and Mussie Michael (ERI).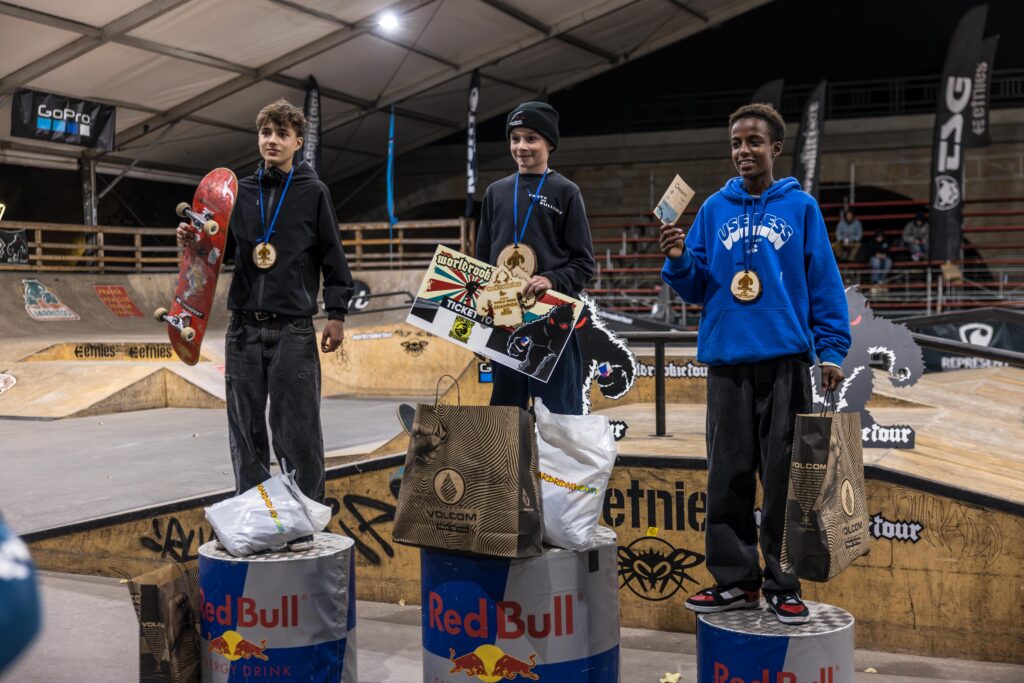 Grom Podium: first place Axel Van Cuyck (FRA), second place Jesse Kloes (GER) and third place Mussie Michael (ERI)
In the top division of the event, the 15-19 years old rookies, we watched an amazing battle for the podium. With tons of "Italian Style" and very technical lines, Andres Martin Gramaglia Fusconi won the event and was crowned the 2023 World Rookie Champion. At only 0.3 points behind Rocco Mueller (SUI) got second place while the third position was conquered on his very last run by Gabriele Fabi from Rome, Italy.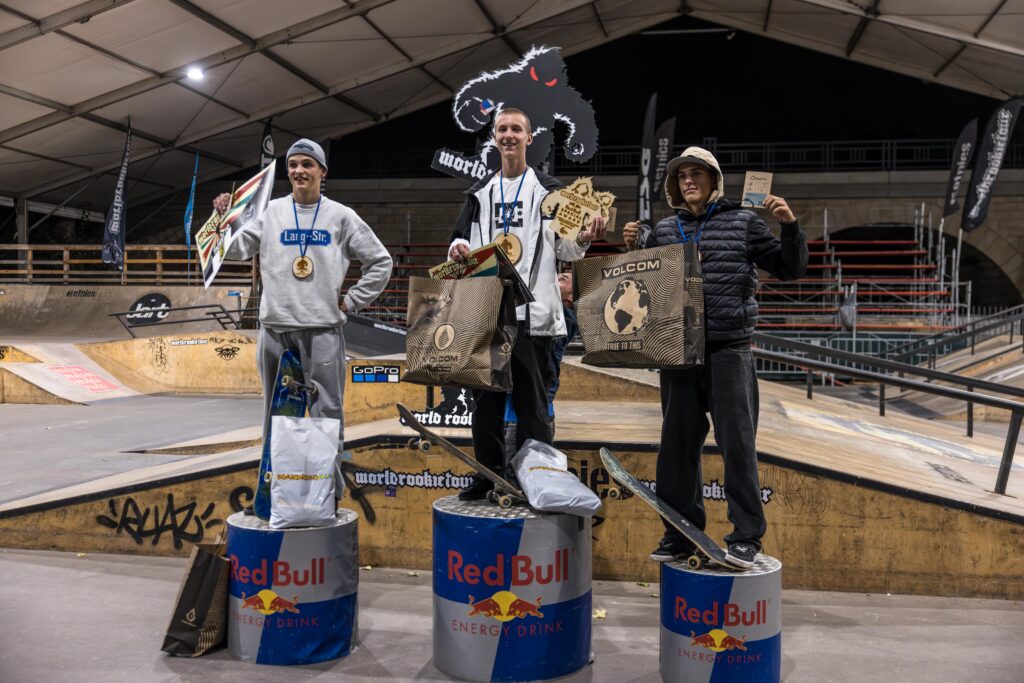 Rookie Podium: first place Andres Martin Gramaglia Fusconi (ITA), second place Rocco Mueller (SUI) and third place Gabriele Fabi (ITA).
The competition was great but the World Rookie Skateboard Final was not only focused on the competitive side of skateboarding. In fact, the program also featured a lot of lifestyle activities to offer a unique experience to everybody: GummyLove "safe sex workshops", social dinners, street sessions and an exclusive "Meet & Shred" session at Maxplace skatepark with local skateboard hero Maxim Habanec.
Watch the event video report here:
Check the photo gallery here:
If you were not here, then you can watch the re-run from the 2023 World Rookie Skateboard Finals in Prague here or on www.boardriding.com YouTube channel www.youtube.com/@boardriding