The Black Yeti is proud of all rookies, even this year the Corvatsch Rookie Fest was a blast. The beautiful mountain landscape and the amazing set up of Corvatsch Snowpark made the event memorable.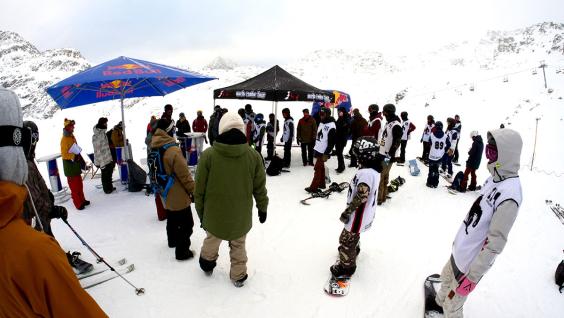 Almost 50 riders from 8 nations got challenged to conquer the podium of the Swiss stop of the Rookie Tour.  The race took place on a perfect setup designed specifically for the event and consisted of one downbox & one downrail on the first table, two kicker (8 and 15 mt) on the second table, one 17 meters' kicker with the possibility to use it like a spine and the last rail area with one downrail and one down tube.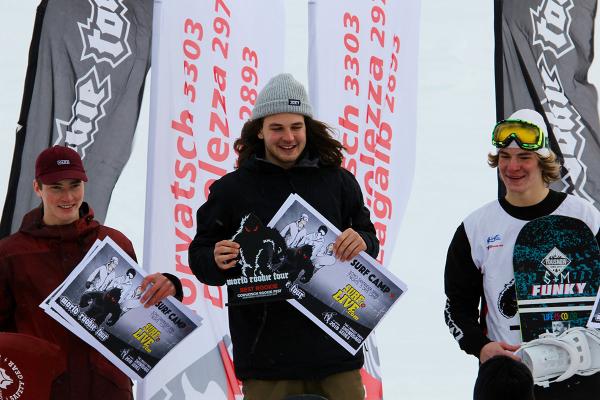 Wendelin Gauger (SUI) scored best in today's rookie boys final with a solid run, bringing Swiss among the winning nations. Second and third place went to two other nations, Germany and Italy, thanks to Philip Schwan (GER) and Marco Krschhackl (ITA) run. Also grom boys showed their best: Alessandro Lotorto (SUI) was awarded the first place, followed by William Mathisen (SWE) that brings Sweden on the podium and Loris Reich (SUI) at third step.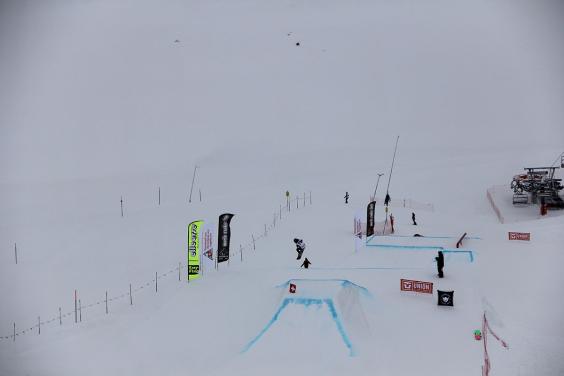 In girls' competition Emma Gennero (ITA) took the first place in the rookie category. Silver and bronze medal for Mona Danuser (SUI) and Anine Leenderts (NOR) that bring Norway on the podium . On the groms' side, the Swiss Lena Müller (SUI) brought gold home and Bianca Gisler (SUI) occupies the second steps, The bronze medal goes to Mia Brookes (GBR), which brings Great Britain among the winning nations.
The winning runs:
1* Rookie Boy – Wendelin Gauger (SUI): switch blunt 270, switch back 9 mellon, backside 7 mute, front 1 in, switch back 3 out
1* Rookie Girl – Emma Gennero (ITA): cab 1 in, backside 3, frontside 3 indy, 50-50 boardslide
1* Grom Boy – Alessandro Lotorto (SUI): backlip, fontside 7 mellon, backside 7 indy, frontboard 450 out
1* Grom Girl – Lena Müller (SUI): backboard, backside 3 tail, stailfish, 50-50 front 1
Download here Corvatsch Rookie Fest Final Rank
Photos of the 2017 Corvatsch Rookie Fest are available on the WRT Facebook Fanpage
Day 1 – Arrival & Training Day
Day 2 – Qualification Day
Day 3 – Final 
Photo Credits: Alberto Della Beffa – Francesca Silvestri
The Black Yeti is happy to confirm already the Corvatsch event also for next season 2018.19 World Rookie Tour. And now the cowntdown is on for the oldest and biggest event of the tour: the leggendary "Deejay X-Masters World Rookie Fest" in Livigno, from 20th to 25th January 2018. Stay tooned for all updated information.
2017.18 World Rookie Tour – Official Calendar
NZ Rookie Fest. Cardrona, New Zealand. October 05-08, 2017. Halfpipe and Slopestyle DONE
World Rookie Rail Jam. Modena, Italy. October 26-28, 2017. Urban Rail Jam DONE
Corvatsch Rookie Fest. Corvatsch, Swiss. December 13-17, 2017. Slopestyle DONE
Deejay Xmasters World Rookie Fest. Livigno, Italy. January 20-25, 2018. Slopestyle
Bulgarian Rookie Fest. Pamporovo-Mechi Cal, Bulgaria. January 26-28, 2018. Halfpipe and
Slopestyle CANCELLED
USASA Grom Fest. Keystone, USA. February 10, 2018. Slopestyle
Valle d'Aosta Rookie Fest. Pila, Italy. February 21-25, 2018. Slopestyle
USASA Grom Fest. Breckenridge, USA. February 25, 2018. Halfpipe
Indy Park Rookie Fest. Nekoma, Japan. March 03-04, 2018. Slopestyle
Oslo Rookie Fest. Oslo, Norway. (to be confirmed)
Mammoth Rev Tour Rookie Fest. Mammoth Mountain, California. March 15-16, 2018. Halfpipe and Slopestyle
World Rookie Finals. Kitzsteinhorn, Zell am See-Kaprun, Austria. April 10-15, 2018. Halfpipe and Slopestyle