The DEEJAY XMasters World Rookie Fest 13th edition will take place at the Mottolino Snowpark in Livigno, Italy, one of the most famous snowparks in the European Alps, from the 20th to the 25th January 2018. To everyone looking for some freestyle action, World Rookie Fest returned with Deejay XMasters, the most famous Italian freestyle event!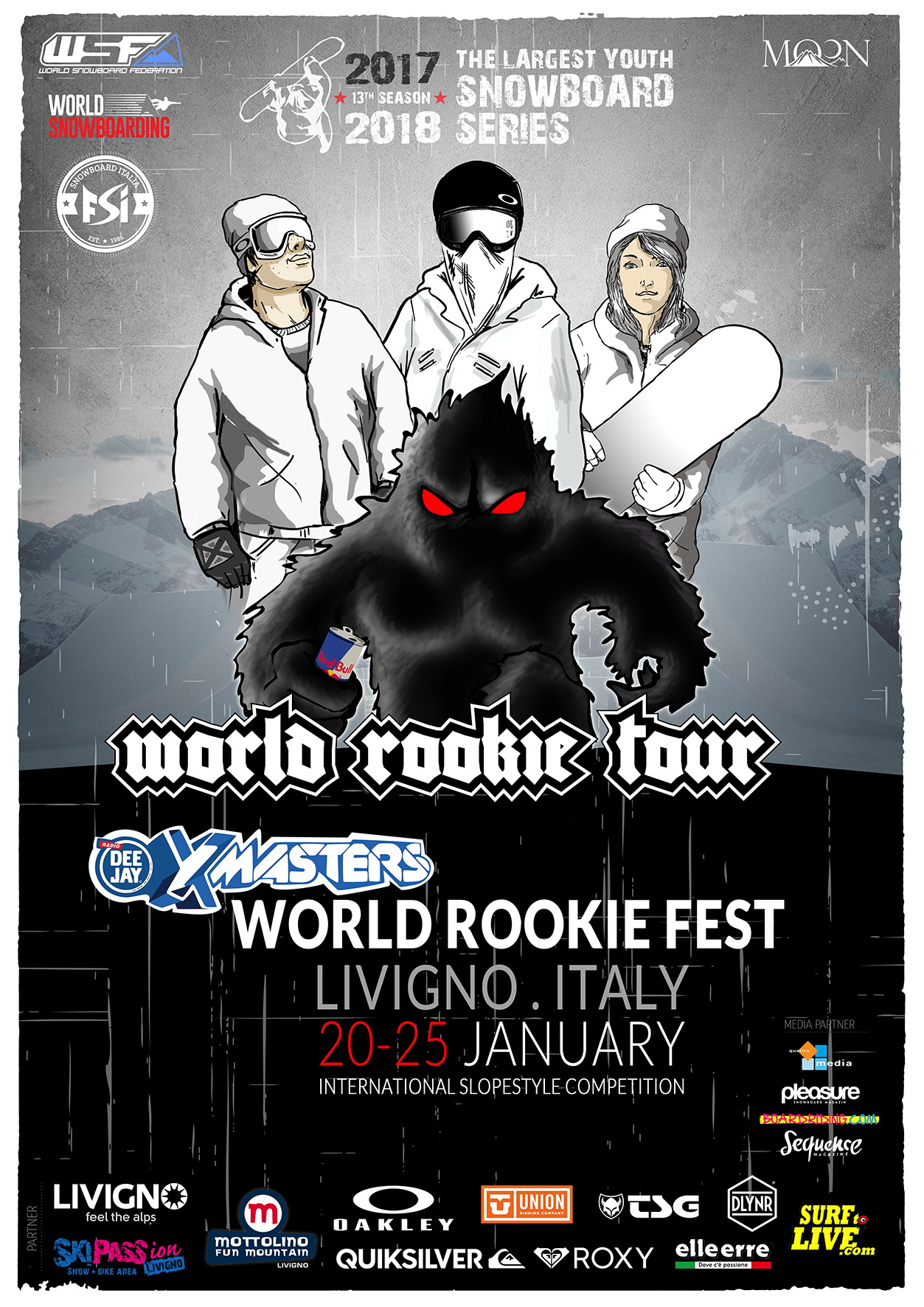 In traditional manner, and in addition to the legendary slopestyle contest, all visitors will be admitted to all the activities to get closer to the freestyle scene and take part to the event even without competing. Yoga lesson, the unavoidable film premiere "2016/2017 World Rookie Tour tv show", also dinners and parties to meet the other riders and make new friends coming from the all over the world. New for 2018 edition, from 20th January to 25th January, the event will happen together with "DEEJAY XMasters" with its incredible party and fun program.
More than 150 riders from 20 nations arrive every year for the slopestyle competition at the World Rookie Fest, which is actually the largest youth freestyle event in the history of snowboarding. All the podium winners from World Rookie Fest slopestyle will be qualified for the 2018 World Rookie Finals and the event will give out points for the World Snowboard Point List and for the World Rookie Rank. In addition, they will be crowned and celebrated with prestigious awards: 2 all-inclusive tickets for the 2018 World Rookie Finals in Kaprun (Austria), 2 all-inclusive ticket to the 2018 Corvatsch Rookie Fest, 2 all inclusive ticket for Valle d'Aosta Rookie Fest, 3 tickets for the end of season Rookie Shooting, 6 surf camp in Spain by Surftolive.com, and other prizes offered by sponsors Union Binding, Oakley and TSG.
Watch the 2017 World Rookie Fest video here.
The quiet times are over. Is there anything cooler than DEEJAY XMasters World Rookie Fest?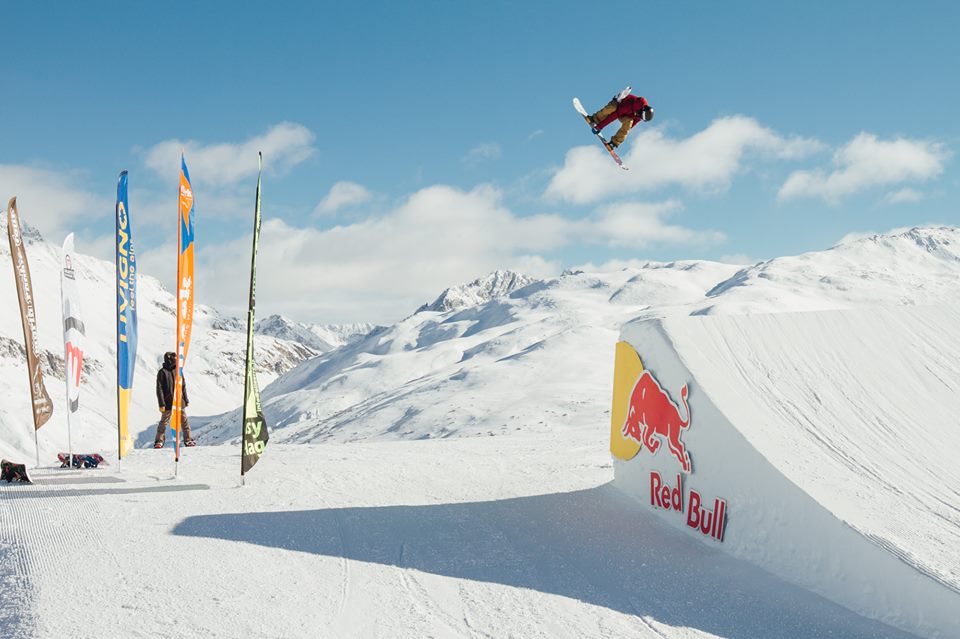 All inclusive accomodation packages including 5 nights (double room) check in 20/01 check out 25/01, 4 days lift tickets, race inscription only for athletes, WRF event pass to all lifestyle activities and party at the 2018 DEEJAY XMasters World Rookie Fest in Livigno:
Type of accomodation
2** hotel – bed and breakfast  Rider: €420 Coach: €390
2** hotel – half board  Rider: €470 Coach: €440
3*** hotel – bed and breakfast  Rider: €470 Coach: €440
3*** hotel – half board Rider: €520 Coach: €490
Extra charge for accomodation in single room: plus €100
IMPORTANT: if you have any special request for your accommodation (specific hotel, less or more nights, different level of hotel) just contact us and the Livigno Touristic Office will take care of yours request!
For no-show not communicated at least 5 days in advance a penalty of the full amount of the reservation will be charged to the national snowboard association.
Info and registrations for the DEEJAY XMasters World Rookie Fest in Livigno, Italy:
Matteo Fregni: email registration@worldrookietour.com, phone 0039.059.9783397 or 0039.349.2210017
Click here to find all the info about program and booking.
Download the registration form here and sent it to registration@worldrookietour.com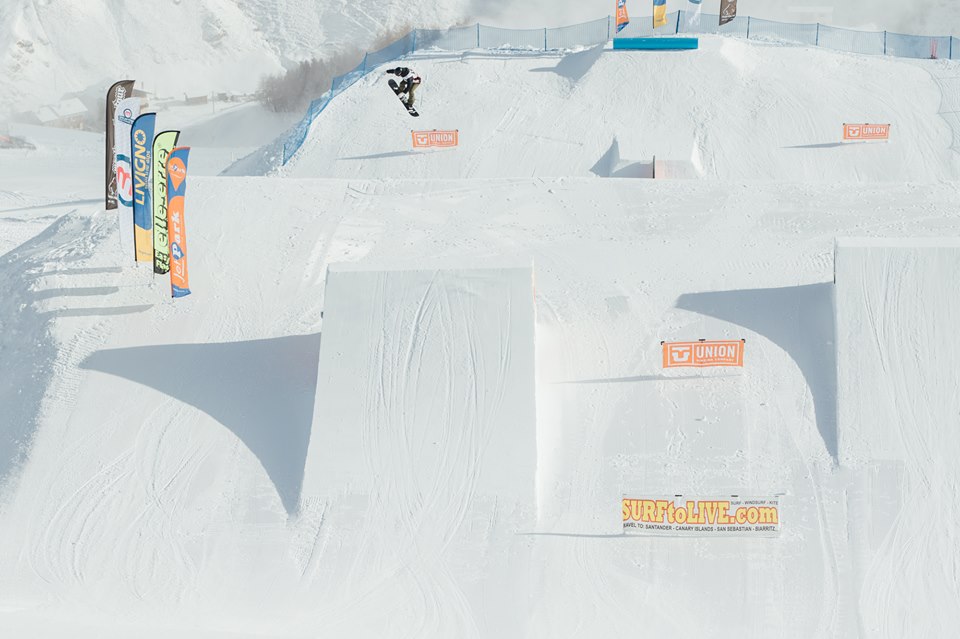 2018 DEEJAY XMASTERS WORLD ROOKIE FEST – PROGRAM
20 Jan 2018 – Arrival Day
15.00 – 20.00 Riders, coach and media registrations. Payment of entry Fee (only in cash) and accommodation packages (cash and credit card). Bibs Distribution. All at Race Office c/o "CIELO" Via Gerus 253, Livigno, Italy
23.30 DEEJAY Xmasters Party @Miky's Pub
21 Jan 2018 – Training Day for all and Event Presentation
10.30 – 14.00 Training in Slope Style at Snowpark Mottolino
9.30 – 16.30 Deejay XMasters party village at Mottolino gondola
15.30 DEEJAY Xmasters Aprés Ski @ Kosmo
16.30 – 17.30 Event Presentation at Race Office c/o "CIELO" Via Gerus 253, Livigno, Italia and video premiere
17.30 – 19.30 Welcome Party at Race Office c/o "CIELO" Via Gerus 253, Livigno, Italy
22 Jan 2018 – Qualification for Heat 1
9.30 – 15.00 Training and Qualification in Slope Style at Mottolino Snowpark
9.30 – 16.30 Deejay XMasters party village at Mottolino gondola
16.30 Yoga Session at Race Office c/o "CIELO" Via Gerus 253, Livigno
17.30 Results from Quali heat 1 and Coach Meeting at Race Office c/o "CIELO" Via Gerus 253, Livigno, Italy
23 Jan 2018 – Qualification for Heat 2
9.30 – 15.00 Training and Qualification at Mottolino Snowpark
16.00 Pool session at Acquagranda
17.30 Results from Quali heat 2 and Coach Meeting at Race Office c/o "CIELO" Via Gerus 253, Livigno,Italy
24 Jan 2018 – Finals for Heat 1 and Heat 2
10.00 – 14.00 Training and Finals at Mottolino Snowpark
17.00 Prize-giving Ceremony at at Race Office c/o "CIELO" Via Gerus 253, Livigno
22.30 Final Party at MIKY'S
25 Jan 2018 – Reserve Day or Departure Day
All day Departure or Reserve day for competition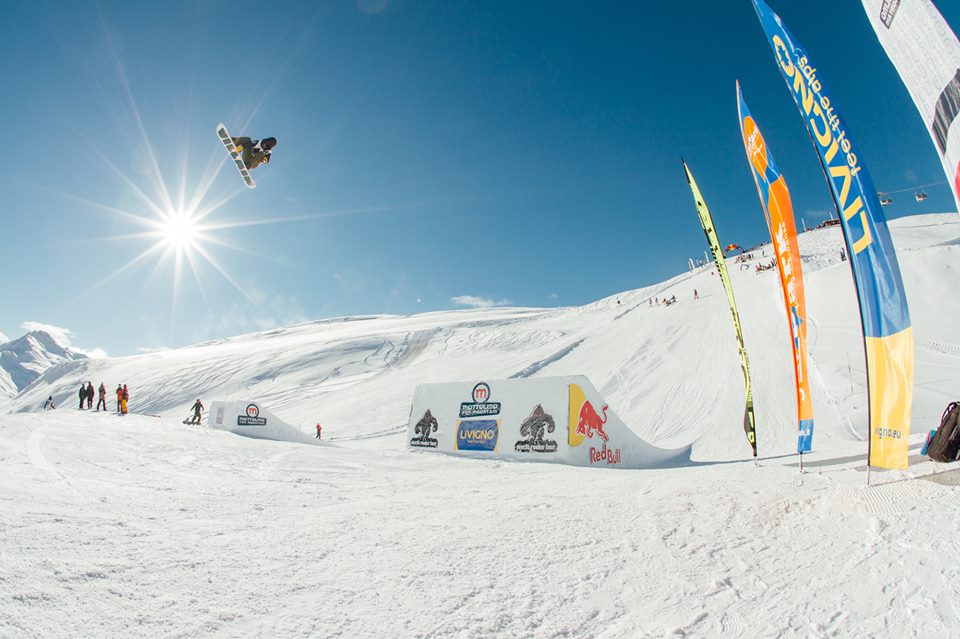 2017.18 World Rookie Tour – Official Calendar
NZ Rookie Fest. Cardrona, New Zealand. October 05-08, 2017. Halfpipe and Slopestyle DONE
World Rookie Rail Jam. Modena, Italy. October 26-28, 2017. Urban Rail Jam DONE
Corvatsch Rookie Fest. Corvatsch, Swiss. December 13-17, 2017. Slopestyle DONE
DEEJAY XMasters World Rookie Fest. Livigno, Italy. January 20-25, 2018. Slopestyle
Bulgarian Rookie Fest. Pamporovo-Mechi Cal, Bulgaria. January 26-28, 2018. Halfpipe and
Slopestyle CANCELLED
USASA Grom Fest. Keystone, USA. February 10, 2018. Slopestyle
Valle d'Aosta Rookie Fest. Pila, Italy. February 21-25, 2018. Slopestyle
USASA Grom Fest. Breckenridge, USA. February 25, 2018. Halfpipe
Indy Park Rookie Fest. Nekoma, Japan. March 03-04, 2018. Slopestyle
Oslo Rookie Fest. Oslo, Norway. (to be confirmed)
Mammoth Rev Tour Rookie Fest. Mammoth Mountain, California. March 15-16, 2018. Halfpipe and Slopestyle
World Rookie Finals. Kitzsteinhorn, Zell am See-Kaprun, Austria. April 10-15, 2018. Halfpipe and Slopestyle